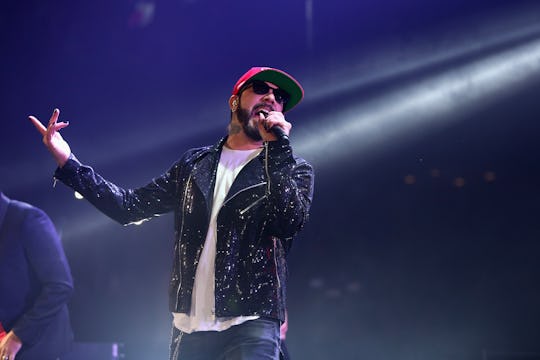 Tasos Katopodis/Getty Images Entertainment/Getty Images
Backstreet Boy AJ McLean Shares First Photo Of Lyric
While the Backstreet Boys might still be performing with the same group name, the group of boys are definitely grown men. In the time since their debut back in the '90's, the members of the Backstreet Boys have gotten married and started families. One Backstreet Boy has a new girl in his life — on Friday, Backstreet Boy AJ McLean shared the first photo of his daughter Lyric, and she could not be any more adorable.
McLean's new baby was born on March 19 — and just three weeks later, after her birth, McLean, already a father to 4-year-old Ava, finally shared photos of his brand new daughter with People. Lyric could not be any cuter — and her name could not be any more fitting. For a man who has been surrounded by music and lyrics his whole life, naming his daughter Lyric is both a touching tribute to his career and a beautiful name on it's own. In an interview with Entertainment Tonight, McLean revealed that his wife, Rochelle, chose Ava's name which meant that McLean got to name his second daughter himself. "So...I got to pick this time," McLean told Entertainment Tonight. "I mean lyrics...Backstreet Boys...it's pretty cool, right?"
In the new family photos, McLean and his family could not look any happier and together — and Ava could not look anymore pleased with being a big sister.
McLean opened up to People about being a father of two for the first time, and his words are seriously so touching:
I was told by someone very dear to me that having a child will change you forever, and that was beyond true with Ava. We decided to try one more time because even though Ava is so independent, the idea of having a sister or brother for her became more and more important to us.
Having two baby girls is a dream come true and we couldn't be any more proud or excited to welcome Lyric Dean McLean into the world and into our family.
Cue the collective "aw"s from every Backstreet Boy fan, everywhere.
Like her name, Lyric's arrival into the world could not have come at a more suitable time — according to Entertainment Tonight, Lyric was born less than 24 hours after the Backstreet Boys finished their first leg of their Las Vegas residency (yes, the Backstreet Boys are still performing together). Which meant the new father got to spend time with his brand new baby without performing getting in the way. Just days before his wife gave birth, McLean joked with E! News about his wife going into labor during a performance, saying: "If she does I'll be on the first flight out, right after the encore!" As it turns out, McLean had to do just that.
For a baby named after one of the most important parts of music, her arrival could not have been any more fitting — and the family could not be any cuter.