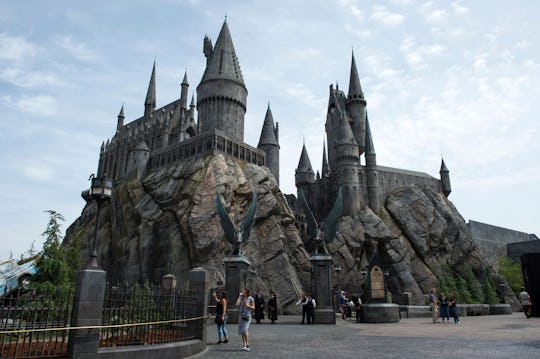 VALERIE MACON/AFP/Getty Images
#BackToHogwarts Tweets Will Get You In The Mood For Magic & Learning
It's Sept. 1, and Thursday would be the fictional back to school day at Hogwarts, the school made famous by the wildly popular Harry Potter books and movies. Here are some of the best #BackToHogwarts tweets so far this year, to get you in the mood for a little Potter magic.
Last year, J.K. Rowling dropped the bombshell that Harry Potter's son James was starting Hogwarts on Sept. 1, meaning James is (fictionally) heading back on Thursday for his second year.
Rowling sent a tweet on last year's Back to Hogwarts Day to mark the occasion: "I'm in Edinburgh, so could somebody at King's Cross wish James S Potter good luck for me? He's starting at Hogwarts today. #BackToHogwarts," Hollywood Life reported. She also offered this update on how James was settling in, "Have just heard that James S Potter has been Sorted (to nobody's surprise) into Gryffindor. Teddy Lupin (Head Boy, Hufflepuff) disappointed."
This year, Rowling kicked off Back to Hogwarts Day with this message, according to Hello Magazine:
"If you're at King's Cross, the Potter, Granger-Weasly and Malfoy families are there too. Albus Severus starts school today. #19YearsLater." But she had to send out a follow up tweet with a correction.
Rowling also shared this stunning piece of art made by a hard core Harry Potter fan with one simple reaction, "Wow."
And here are a few of the best #BacktoHogwarts tweets from fans:
It's giving plenty of grown-up fans all the nostalgic feels.
Friendships have been forged over #BacktoHogwartsDay.
"You're 20, that's too old for Hogwarts," said no Harry Potter fan ever.
Damn Muggles.
Yes, apparently there's a Harry Potter Snapchat filter now.
It's probably ill-advised to actually run straight into a brick wall.
Harry and James' first day #BacktoHogwarts.
So many memories.
*Sniff*
This day inspires all sorts of Potter love.
It's a day for friendships that last a lifetime.
Now all you have to do is wait for that letter.
And dream of a magical place where the impossible is possible.
But for just today, we've all got a ticket.
See you at Hogwarts.
Because no matter who you are or where you find yourself, Hogwarts is a place you can always call home.
But seriously, be really careful about running into brick walls at King's Crossing. That just sounds dangerous.
To really get you in the mood check out this performance of "Back to Hogwarts" from "A Very Potter Musical."