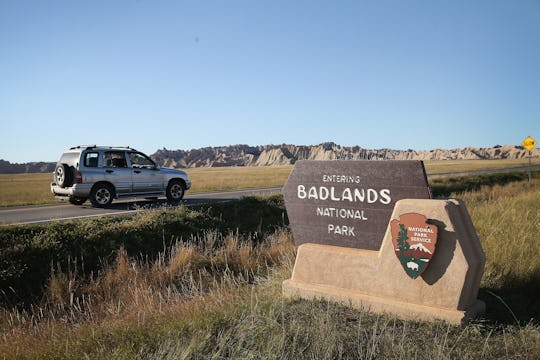 Scott Olson/Getty Images News/Getty Images
Badass National Park Twitter Account Trolls Trump
Though he thought he could silence them all with a social media ban, President Donald Trump wasn't able to stop all of the Environmental Protection Agency's tongue-in-cheek tweets from rolling out. On Tuesday night, a National Park Twitter account trolled Trump hard, using nothing but facts. The series of tweets on climate change didn't mention Trump directly but, given the circumstances, (and seeing that the tweets have now been deleted), it's obvious that someone tweeting as the Badlands National Park in South Dakota was using the account's platform to speak out about an issue they feel was in dire need of recognition, despite Trump's gag order.
Prior to Badland's badass call out, on Friday, the National Parks Service got into some trouble, too. The official account retweeted widely-circulated photos of crowds, comparing President Barack Obama's inauguration to Trump's. In response, a tweet ban was put in place, with federal instructions to employees that "the department and all bureau [were] not supposed to tweet [during the] weekend and [were to] wait for guidance until Monday," CNN reports. Surely enough, the National Park Service began tweeting again on Monday, after having issued a tweet apology, writing: "We regret the mistaken RTs from our account yesterday and look forward to continuing to share the beauty and history of our parks with you."
Trumps recent actions, compounded with his devotion to denying the subject, negate the significance — and even existence — of global warming. In addition to a cancelled international climate change summit upon his taking office and a complete removal of any mentions of "global warming" or "climate change" on the White House's website, Trump has called climate change a "hoax" himself and has appointed a Cabinet of climate change doubters to surround him.
The Badlands National Park's Twitter account didn't propagate any false information (or "alternative facts," if you prefer) in its three tweets on climate change. Mentioning global warming issues such as ocean acidity and carbon dioxide levels, the tweets gave numbers and figures intended to illustrate how our global, environmental situation has only worsened over the years. The deletion of the tweets, then, seemed pretty unnecessary.
Trump's silencing of the EPA shows his willingness to forcefully control the spread of information that does not benefit his personal objectives. Kudos are in order to the rogue Badlands tweeter; Knowing full well the risks but spreading truth regardless is the definition of "when they go low, we go high."