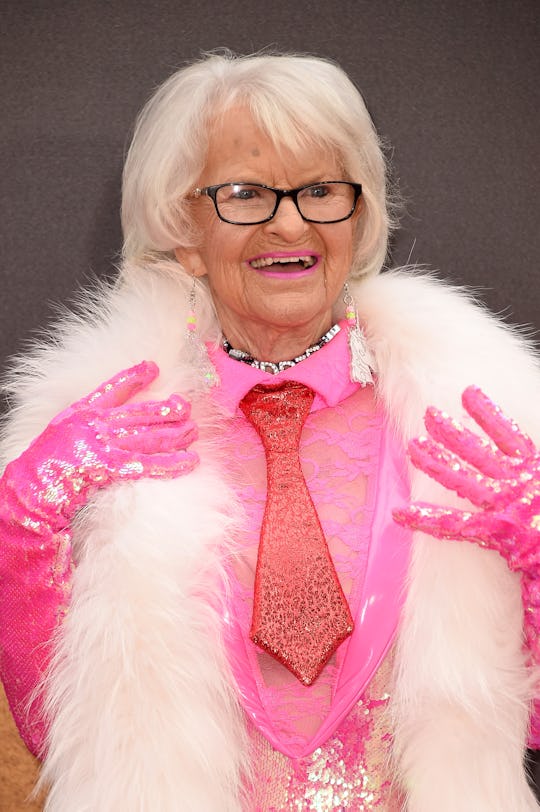 Frazer Harrison/Getty Images Entertainment/Getty Images
Baddie Winkle Attends MTV Movie Awards, Puts Everyone Else To Shame
Baddie Winkle proved once again that age is nothing but a number on the red carpet Sunday night. The octogenarian, real name Helen Ruth Van Winkle, brought some rave-chic to the MTV Movie Awards in a bad ass ensemble that reflected her quintessential style. Simply put, Baddie Winkle attended the MTV movie awards and put everyone — including those one-quarter of her age — to shame.
The 87-year-old Instagram celebrity wore a hot pink sequin menswear-inspired jumpsuit (that had long sleeves connected to sequined gloves!) over a hot pink lace top with a short textured crimson tie to the event. She paired the sassy look with some totally of-the-moment white platform sneakers, dangling gold and white feather earrings, and her signature sparkling "Baddie" necklace. The icon topped off the look with a white faux-fur stole for an extra pinch of old-school Hollywood glamor. She then accessorized her ensemble further with some young eye-candy in the form of Teen Wolf star Tyler Posey, who was wearing a red MTV onesie (?).
Of course, this sort of sartorial venture isn't exactly new for Baddie. Born in 1928, Baddie Winkle has been stealing hearts and causing serious fashion-envy as one of Instagram's street style stars for years now. She's been showcasing her signature club-kid wild style for her 1.8 million (!) followers since Spring 2014 and has become the "cool" grandma for the Millennial set.
The Knoxville, TN resident's kids and grandkids got her hooked on Instagram in April 2014. In her first post, Winkle was wearing a tie-dyed Grateful Dead T-shirt (the one with the dancing bears), jean shorts, and knee-highs covered in pink marijuana leaves. The caption? "Peace and Love."
Her page slowly turned into a raver's technicolor dream which drew the attention of famous followers like Rihanna, Nicole Ritchie, Gwen Stefanie, and Miley Cyrus. Since then she's starred in clothing company Dimepiece L.A.'s campaign and walked dozens of red carpets.
The attention paid to her still surprises the street style icon but she is appreciative. "It shocks me how much people love me," Winkle recently told The Daily News. "They give me energy and motivation."
Let me just say, as a Millennial, this bad ass great-grandma is putting a lot of us to shame. She goes to raves, plays beer pong with college kids at frat parties, loves smoking (medicinal) marijuana, sexual innuendos, and parties like someone a quarter of her age. Meanwhile, many of us who are actually in our 20s can't find the energy to drag ourselves away from Netflix on the weekends to go out to a local bar.
She does all this while bucking the idea that someone needs to dress their age. Winkle's Instagram is a proverbial middle finger to anyone who would cringe at a great-grandmother wearing and saying what she does. She thinks women her age should "do exactly as they please rather than conforming to what society expects from them." Or, more succinctly, "Do you, girl."
While many of us, myself included, wouldn't be caught dead in a crop top—what about my rolls?!—or are nervous come bikini season, this octogenarian has been saying WTF to fashion rules for years. She rocks ensembles with little regard to their outdated fashion status. In one photo, she's wearing a crocheted cut-out rainbow-bright bathing suit in a room lit by a black-light with a lava lamp.
And, let's be honest, she's keeping up with the times better than many 20-/30-somethings. Baddie Winkle's been known to don t-shirts with pop culture phrases like, "Bye Basic", "Been Trill", "You are my champagne, my Papi, my Drake", and other sayings I've had to Google in the past—I know, I'm trading in my 20-something card tomorrow.
Her unabashed confidence and willingness to accept her age but not be restrained by it is refreshing. Ours is a time when wrinkles are frowned upon and youth is revered, yet Winkle turns that notion on its head. Her Instagram features close-ups of her face, untouched by Botox. She wears shorts and bathing suits yet women much younger than her would be terrified of revealing their bodies' natural signs of aging on social media.
According to Winkle, it isn't about how young you look on the outside; it's about how young you feel. "I don't think of getting older," she told Refinery29 in an interview. "I'm not an old person. I don't know what it feels like to be old or how an old person is supposed to feel."
As Winkle said to Galore Magazine in December 2015, "Sometimes you need to take your dream version of yourself and turn it into reality, fuck the rules, whether you're 20 or 80." So, take a tip from kick ass grandma Baddie Winkle and try on that cut-out dress or neon top because loving yourself means looking and feeling cool at every age, critics be damned.