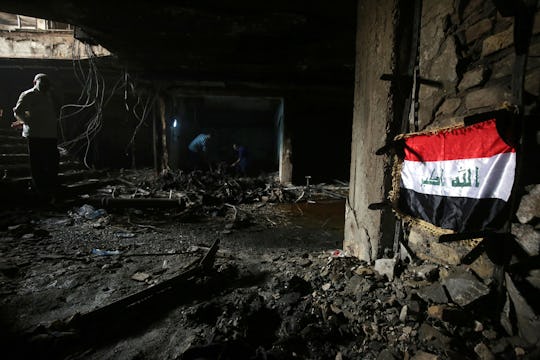 AHMAD AL-RUBAYE/AFP/Getty Images
Baghdad Day 3 Updates Show The Death Toll Continuing To Climb With Few Calls For Support
Late Saturday evening, a suicide bomber detonated a truck full of explosives in the Karrada area of Baghdad. While Iraq has seen suicide-style attacks before, Saturday's bombing was particularly savage; in fact, three days after the attack, the death toll in Baghdad is continuing to climb. According to The Washington Post, more than 200 individuals have died from their injuries. And while some of the specifics remain unclear, what is known is that the attack took place on a packed shopping street in Karrada. The street was particularly crowded Saturday evening as many families were out shopping in preparation for Eid al-Fitr — the day that marks the end of Ramadan.
According to CNN, a truck — which was decked out with explosives — plowed into a building in the heart of Karrada. While firefighters responded to the scene quickly and worked to rescue those who were trapped in the wreckage, witnesses said the fire spread rapidly, according to The Washington Post. It spread so quickly that many of the victims bodies were burned badly enough that they cannot be identified.
ISIS has claimed responsibility for the attack in Karrada, and, in fact, this is just the latest in a string of attacks the militant group planned and executed during Ramadan, according to CNN. Just last month, there were suicide bombings in Jordan and Yemen and there was a mass shooting at a cafe in Dhaka, Bangladesh — all of which were ISIS's doing. On Monday, there were three separate suicide bombings in Saudi Arabia which, according to CNN, could also be the work of ISIS.
As State Department spokesman John Kirby explained to CNN, these latest attacks are just another example of ISIS's sheer disregard for human life:
These acts of mass murder are yet another example of Daesh's [another term for ISIS] contempt for human life. From Baghdad to Istanbul, Brussels, Dhaka, and Paris, Daesh terrorists murder the innocent to attract attention and recruits. They will not succeed.
However, some — like college student Sadeq al Zawini — believe more needs to be done to prevent these attacks. In fact, while searching the rubble for missing friends, al Zawini told CNN "we need a solution":
We've had it with the Iraqi government and politicians. They can't continue blaming Daesh and other terrorist groups. We need a solution.
And al Zawini is right: something needs to be done in Iraq and Turkey and in Yemen, Jordan, Belgium, Saudi Arabia, America, and France. Something needs to be done everywhere, and universal calls for support and love are necessary. Baghdad hasn't been trending on Twitter or Facebook; there is no flag filter for the more than 200 people killed in the bombing. Consistency in support is the first step people should take in combating these dehumanizing acts. Outside of that support, though, it's unclear what the next step (either militarily or otherwise) would be.