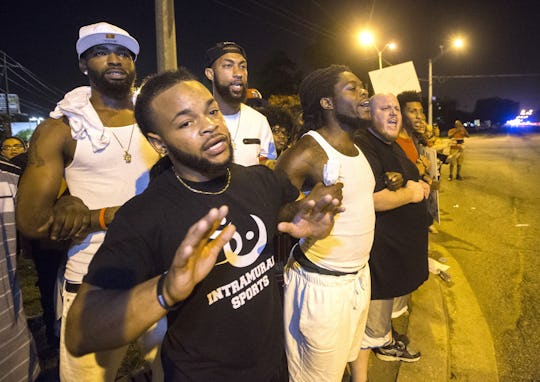 Mark Wallheiser/Getty Images News/Getty Images
Bahamas Issues U.S. Travel Advisory After Officer-Involved Shootings
Within the United States, many Americans are frustrated, sad, angry, and scared after a tumultuous week that witnessed the separate shooting deaths of two back men by police officers, followed by a sniper attack on police officers at an ensuing Dallas rally that left five of them dead. Those feelings of unease over racial tensions between civilians and law enforcement officials haven't been contained to the United States, either. The majority-black nation of the Bahamas issued a travel advisory after the officer-involved shootings, urging its citizens traveling to the United States to "exercise extreme caution" when confronted by law enforcement.
The deaths of Alton Sterling in Louisiana and Philando Castile in Minnesota on two consecutive days last week have sparked rallies all across the nation as activists and both people of color and white people express rage over the extrajudicial killing that they perceive as symptomatic of racism. Many of these demonstrations have been peaceful and even amicable between cops and protesters, but violence erupted in both St. Paul and Baton Rouge overnight, resulting in hundreds of arrests.
And given that friction between law enforcement and Americans of color has been a major, mainstream issue here for years, it's not shocking that the Bahamian government wants to warn its citizens of potential danger.
In the advisory, posted July 8 ahead of the country's Independence Day weekend during which many were expected to travel, the Ministry of Foreign Affairs and Immigration Issues offered advice to those headed to the United States:
We wish to advise all Bahamians traveling to the US but especially to the affected cities to exercise appropriate caution generally. In particular young males are asked to exercise extreme caution in affected cities in their interactions with the police. Do not be confrontational and cooperate.
The emphasis on "young males" is striking, because educating black men and boys about the dangers of police brutality is a sentiment widely circulated throughout the United States as well.
"I understand their feeling, their concern, because I'm sure they don't want to count bodies coming home in body bags," Beryl Edgecombe, founder and president of the New York-based Bahamian American Cultural Society, told The New York Daily News. "It's a fatherly advice to our black males and I think this is something that all parents to young black males in both the U.S. and abroad should say."
Edgecombe characterized the advisory as as "fatherly," and many African American parents of black boys likely could not agree with her more. In August 2014, the shooting death of 18-year-old Michael Brown, an unarmed African American, by a white cop in Ferguson, Missouri, strengthened the Black Lives Matter movement and catapulted the issue of police violence disproportionately and oftentimes unjustly aimed at African Americans into the national consciousness. It also caused many parents of black children to begin talking publicly about having "the talk" with their sons.
In a short documentary called A Conversation With My Back Son released last year, The New York Times talked with parents about how they prepare their black sons for interactions with the police. There's practical advice: Do what they say, avoid arguments, keeps your hands out of your pockets. One mother gives a succinct description of the reality of racial profiling: "He's going to turn into a 'large scary black man,'" she says. "That's not who he is, but that's how he will be perceived."
A recent study from the Center for Policing Equity found that police are more likely to use force on black people, The Times reported. Americans of all colors are learning this in an incredibly alarming way: This week, for example, we watched in horror the last moments of both Sterling and Castile via visceral, disturbing witness cellphone footage. And other countries are noticing, and reacting. Just as black parents are working to protect and educate their kids about avoiding police violence, the Bahamian government wants to make sure its people know what could happen in the United States.
Tragedies like the Sterling's and Castile's deaths aren't typical of many, many police interactions, but they do happen — and Americans, as well as our visitors, need to be educated, aware, and ready.