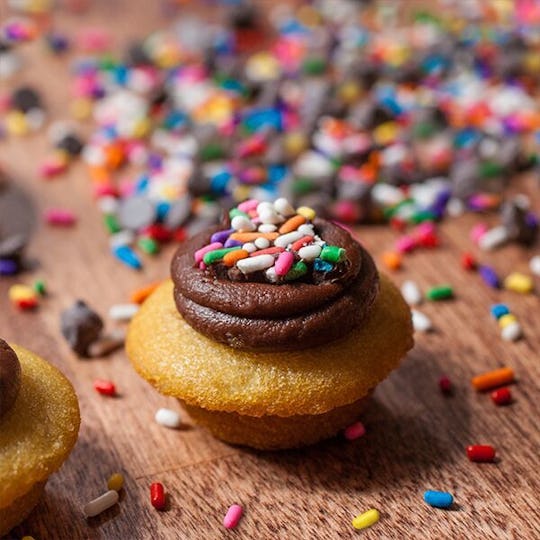 Baked By Melissa Has A New Line Of Cupcakes, & They're Super Sweet
Good news for gluten-free foodies with a sweet tooth. New York-based cupcake shop Baked By Melissa recently launched a line of gluten-free cupcakes, proving their creative confection know no limits. In addition to its new treats, Baked By Melissa will also be opening an entirely gluten-free store.
The new goodies became available on November 17, but the process has been long in the making. The bakery's owner Melissa Ben-Ishay has been working on crafting the perfect gluten-free cupcake for over a year. But her reason for creating a line of gluten-free cupcakes wasn't just a mission to "fit in" with the myriad bake shops and restaurants that are jumping on the gluten-free bandwagon. Rather, her goal was to create a bite-sized treat that everyone could enjoy. But there was also a personal component to this newfound confection. Melissa, who is currently pregnant with her first child, developed a sensitivity to gluten during her first trimester, making these treats quite serendipitous. Because can you imagine anything sadder than a baker who can't even enjoy her own delicacies?
The new line features eight flavors of gluten free cupcakes, and are a mix of traditional Baked By Melissa flavors as well as some exclusive to the gluten-free menu. The flavors include cinnamon, chocolate marshmallow, red velvet, caramel, peanut butter cup, chocolate crunch classic yellow, and, of course, Baked By Melissa's signature tye-die treat.
In addition to these amazing flavors that taste as good as their regular counterparts, Baked By Melissa's gluten-free line offers another yummy benefit: the cupcakes are the same price as her regular ones. Again, Melissa's belief that allergies should not be punished proves she is just as awesome as her tiny treats are.
So if you need a Christmas gift for any of your diet-restricted friends, you know where to go. Fill up a 12 pack with every flavor, and do your very best not to eat any of them before you give them to your loved ones.
Images: Baked By Melissa (2); Giphy