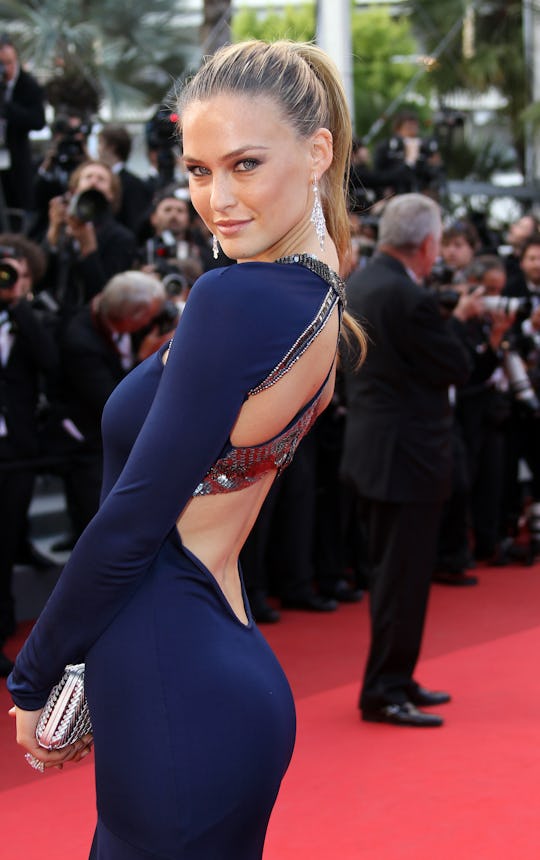 VALERY HACHE/AFP/Getty Images
Bar Rafaeli's Best Pregnancy Instagrams Are A Pregnant Beach-Lover's Dream Come True
Every woman experiences pregnancy differently. Some have a great time and feel like they could stay pregnant forever, others feel like puking for nine months straight and hate themselves for craving only Taco Bell burritos (guilty as charged). But judging by Israeli model Bar Rafaeli's best pregnancy Instagrams, no one is having a more glamorous pregnancy than she is. According to the Daily Mail, Rafaeli and her husband Adi Ezra announced their first pregnancy on New Year's Eve, and it looks as though they've been spending a lot of quality time together on the beach and by the pool while they await their little one's arrival.
Even though no pregnant woman should ever feel bad about her changing body (because all bodies are different, and, uh, you are also growing a human and that is freaking awesome), it's hard not to envy Rafaeli's dreamy Instagram life. I mean, there was absolutely zero chance I was going to frolic on the beach in a bikini when I was pregnant, but Rafaeli makes it look effortless. And it's hard not to envision just how blindingly gorgeous her child is destined to be after having a scroll through her feed. The only downside? Some of her photo captions are written only in Hebrew. But hey, a picture is worth a thousand (English) words, right?
I have to admit, even as a non-pregnant person, this photo makes me long for iced drinks and a walk along the beach. Rafaeli is pictured here in Gazebbo, Israel, and, uh, I might have to pack my bags immediately and hope on a plane.
Rafaeli might not have technically been a mother just yet this past Mother's Day, but she celebrated it in true jetsetting fashion — this time in Santorini. And she made sure to give a shout out to all the other pregnant women following her feed, captioning the pic, "And a happy mom's-to-be day."
It's not clear whether this was shot for a magazine cover, or if she just takes insanely amazing iPhone photos, but either way, there's no doubt here why Rafaeli is so good at what she does. Also taken on the beach, because of course.
In her most recent Instagram pic, Rafaeli and her growing bump are hanging out on the beach yet again, in a snap she captioned "weekend vibes." Oh, how I wish my weekends looked like that.
Maybe she got sick of the sand? In this photo (which perfectly illustrates what I'd like to be doing every day this summer), Rafaeli opted to move her bikini-clad, pregnant self to the pool, making me think that her life might actually be one long vacation.
OK, now this looks a little bit more like what most women's pregnancy experience is probably like. Rafaeli admitted to seriously binge-watching Grey's Anatomy with her pregnancy bump, wondering "If I watch enough episodes of Grey's Anatomy, do you think my daughter will come out wanting to be a doctor?!"
When you're a model, it's kind of a given that your kid is going to be stylish, right? Rafaeli shared this cute pic of baby clothes sent to her by Stella McCartney, from her own line, Stella McCartney Kids (along with a handwritten note!).
Clearly, the anticipation is getting to her! Rafaeli posted this side-by-side photo of herself as a baby with a 3-D ultrasound photo of her own daughter and captioned it, "Like mother like daughter?"
Oh, come on! Does Bar Rafaeli have the best life ever? Yes, I'm pretty sure she does. Swoony-travel envy aside, it's clear that Rafaeli is loving her pregnant life right now and soaking in every minute of her pregnancy while she can. And that's probably great advice, even if you probably won't get to hang out in a hammock anytime soon.