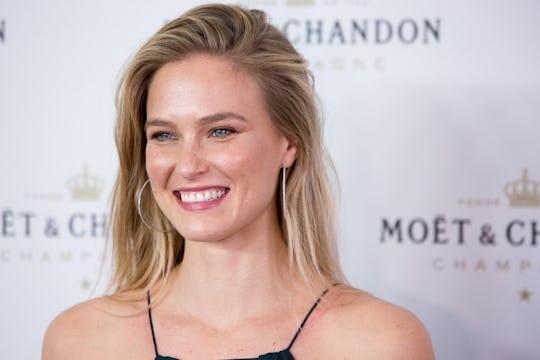 Pablo Cuadra/Getty Images Entertainment/Getty Images
Bar Refaeli Is Expecting Her 2nd Child
Model Bar Refaeli has some news for her social media followers: she's expecting again. Followers of the 31-year-old model got to see the surprise announcement on Tuesday, and it's a wonderful development for the model and her husband, Adi Ezra. When it was announced that Bar Refaeli is expecting her second child with Ezra on Instagram Tuesday morning, the news spread like wildfire online.
Back in August, the couple, who've been married for less than 2 years, had a daughter named Liv, so they aren't new to the parenting game, though I doubt they'd consider themselves experts (who does?).
The couple, who were married at the Carmel Forest Spa Resort in Haifa, Israel, back in September 2015, are a favorite couple for many, and it's been just eight months since they welcomed daughter Liv into their little family. But Refaeli has said in the past that she'd like to have a large family, so it's not really a shock that baby number two is on the way.
Refaeli is considered a supermodel, and is regularly on many "sexiest women" lists, according to the Daily Mail. The outlet reported that she's been the face of campaigns for brands like Chanel, Reebok and Gap in the past. But these days, she also represents the role of "mom."
In the Instagram post Tuesday morning, Refaeli captioned a photo, "Something's cooking …", and it featured a mirror selfie in which she's exposed a tiny baby bump to the world. Simple and understated, but an obvious allusion to the exciting news.
Refaeli told Hello! Magazine back in July of 2015 that she had big plans for a big family, stating:
I think this will be a decade of family...I come from a family of four children. A lot of moms could read this and think, 'Yeah, try having one first.' Hopefully, I will have a big family, but I'll take it one by one.
She and husband Adi have already gotten started with Liv, and this new baby will make for two pairs of little feet running around their home. How many they'll end up with in the end is anyone's guess, but it sounds like they're more than happy to keep adding to the brood for now.
The Daily Mail reported that although Refaeli hasn't yet released any photos of her daughter, she shared a selfie of herself recently along with the caption, "If you are wondering what my daughter looks like… Just smaller."
It remains to be seen whether Refaeli and her husband will continue to be so private about their children in the future, and after the new baby arrives. For now, they're likely just enjoying the little one they have, and excitedly awaiting the newest addition, with no concerns about what the tabloids may think.