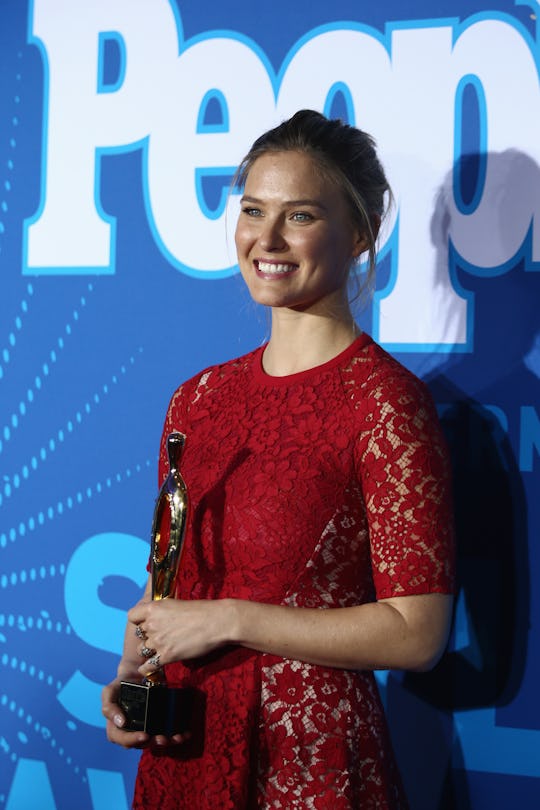 Andreas Rentz/Getty Images Entertainment/Getty Images
Bar Refaeli Shares A Pregnancy Pic At The Beach & It's Adorable
Model Bar Refaeli is beautiful and being pregnant somehow makes her even prettier. When Refaeli isn't hosting, modeling and making appearances around the world, she is relaxing on the beach — like every stressed out pregnant mother should or wishes they could. While getting some much needed rest and relaxation, Bar Refaeli shares a pregnancy pic at the beach and it incredibly adorable (and a little envy inducing too).
There are no doubts that Refaeli looks good in a swimsuit. The former Sports Illustrated swimsuit edition cover model and Victoria's Secret model practically made a living for looking good in a swimsuit — and more power to her. So, there is no surprise that Refaeli looks amazing in a swimsuit even while five months pregnant.
Refaeli married husband and heir to Israeli food importing company Adi Ezra in September 2015 in Israel in front of 300 guests. Three months later on New Year's Eve, Refaeli announced her pregnancy on her Instagram account. Refaeli shared a picture of her positive pregnancy test and captioned the photo "2016 is going to be like..." with a baby and a bottle emoji.
Now, Refaeli is sharing her progress on Instagram as a pregnant mom and it is seriously adorable.
"My girl craved some vitamin D" Refaeli captioned the photo, adding the #5months to let everyone know how far along she was.
Not only does Refaeli look amazing, the photo is so cute and shows that she will be a great mother, always listening to the needs of her child (even when her child is still in the womb). The photo did make some people feel the need to comment on Refaeli's size, which to some, may look very small for being five months pregnant.
While the comment is not meant to be taken seriously, it is pretty true. Refaeli does look small, but that is just the way she has always been. Pregnancy also looks different on every single woman. For example, take this photo that went viral on Facebook earlier this month. The picture shows pregnant former Miss Universe finalist Chontel Duncan standing next to a just-as-pregnant friend.
While the photo drew up controversy, it came with a good lesson. We can't judge pregnant woman for their size because everyone's bodies shows their pregnancy differently.
But Refaeli looks amazing while pregnant and it shows. The expectant mom is practically glowing underneath her sun hat and its not just her tan. I can't wait to see more photos of the expectant mother in the near future.