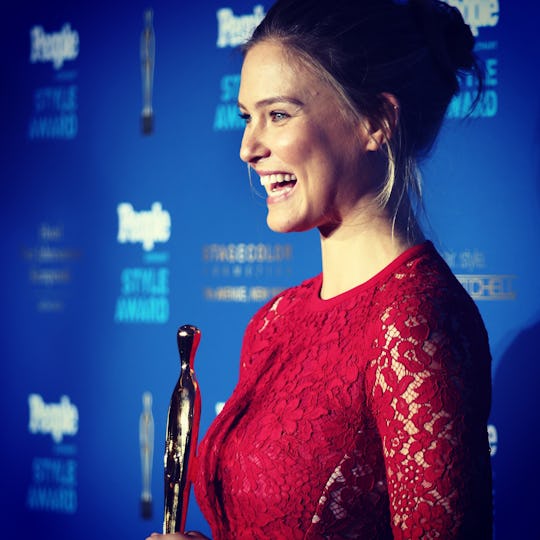 Andreas Rentz/Getty Images Entertainment/Getty Images
Bar Refaeli Shares An Adorable Pregnancy Pic & Announces Her Swimsuit Line
What do you do when you're an Israeli supermodel who is five months pregnant with a new swimwear line to announce? Well, if you're Bar Refaeli, you strap on a bikini, get in front of the camera, do what you do, and show the world just how good motherhood can look in a two piece. Yes, Bar Refaeli revealed plans for a new line of swimwear and — her growing belly — with a cute bikini pregnancy pic fit for a Vogue magazine spread.
Refaeli and her husband, Adi Ezra are expecting their first baby, which they revealed is a girl, in a few months and the model mom obviously isn't feeling camera shy. And why would she be? Pregnant or no, Refaeli knows how to work a bikini shot. But, don't be fooled, the bikini Refaeli is wearing in her Instagram announce isn't one of hers. The line of swimwear will be called BAR, but none of the designs are available yet. Instead, the 30-year-old, according to Us Magazine, is wearing a two-piece bikini designed by L*Space by Monica Wise.
Pregnancy certainly seems to agree with her: she's smiling and looking happier and healthier than ever. Refaeli, with the launch of her swimwear line, will join her Sports Illustrated colleague and fellow mom Alessandra Ambrosio in the swimwear biz. Ambrosio has her own line of swimsuits sold under her Ale brand.
Refaeli also recently shared this super sweet snap cradling her bump in a white lace dress while she was behind the scenes at the Factory 54 fashion show. The picture is captioned "Her first runway appearance." And if this little girl grows up to be anything like her mother, this may just be her first appearance of many on the fashion scene.
The mother-to-be is also taking time for a little pampering. Refaeli also shared a picture of her getting a facial. A new mother's skin isn't going to take care of itself!
Refaeli plans on a big family she said in an interview last summer.
"I think this will be a decade of family," Refaeli said in an interview with Hello! Fashion Monthly. "A lot of mums could read this and think, 'Yeah, try having one first.' Hopefully, I'll have a big family, but I'll take it one by one."
I would hate to have to be the one to break it to her, but after a couple of kids, the time you have for facials and beach frolicking does tend to shrink. But hopefully she'll have plenty of help from her husband, friends, and family to balance her new swimsuit line, motherhood, and time for herself.