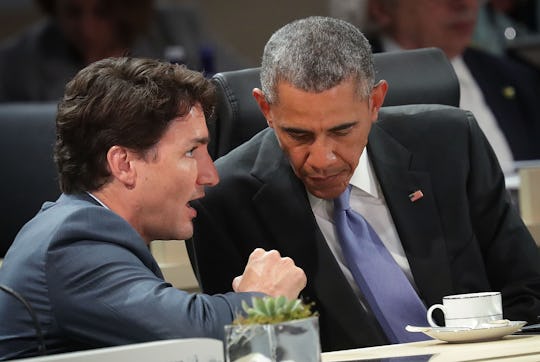 Alex Wong/Getty Images News/Getty Images
Barack Obama & Justin Trudeau Had Dinner, & People Are So Happy
The bond between President Barack Obama and Vice President Joe Biden might be an enduring love story for the ages, but the former POTUS' friendship with Canadian Prime Minister Justin Trudeau also appears to be a pretty solid bromance. The two politicians seemed to be quite fond of each other while they were both the leaders of neighboring countries, but it turns out that their relationship has continued even beyond Obama's presidency. According to The Toronto Star, Barack Obama and Justin Trudeau had dinner in Montreal Tuesday night, and unsurprisingly, it caused quite the reaction.
Obama and Trudeau had dinner together at the Liverpool House restaurant in Montreal's St-Henri neighborhood, and following the meal, Trudeau tweeted a photo showing the two of them engaged in a conversation ahead of their meal, the former president looking relaxed and leaning back in his chair as he listened. In the post, Trudeau thanked Obama for his "visit & insights tonight in [his] hometown," and explained that they'd been discussing ways to encourage "young leaders to take action in their communities." The Obama Foundation also shared a similar photo, and wrote that they'd "discussed their shared commitment to developing the next generation of leaders" during the dinner.
Earlier in the day, Obama gave a speech at the Montreal Chamber of Commerce, according to TIME, where he also addressed President Donald Trump's decision to back out of the Paris Accord. Obama told the crowd that while he was "disappointed with the current American administration's decision to pull out of Paris," he hadn't given up hope, and added that he was still "looking forward to the United States being a leader and not on the sidelines going forward," according to The Montreal Gazette. And though he didn't name the president specifically, he did seem to warn against Trump's rhetoric:
We are in an environment where we are only accepting information based on what our opinions are rather than basing our opinions on the facts we receive, and reason and logic.
That's an important message to be sure, but coverage of Obama's speech was largely overshadowed by the fact that, well, people just really seem to love seeing him hang out with Justin Trudeau. In addition to the official photos released from inside the restaurant, snaps taken of their exit spawned countless tweets and memes:
Some took the opportunity to make a joke at Trump's expense:
While for some it was all just way too much:
Seeing Obama and Trudeau together may be bittersweet for those who long for the days of Obama's presidency, but it's also pretty reassuring to see Obama's continued willingness to share his experience and expertise. Given the fact that the Trump administration doesn't necessarily appear particularly concerned with fostering close relationships with other world leaders though, it's probably safe to assume we shouldn't be expecting Trump to be scheduling any cozy dinner dates with the Canadian PM anytime soon.