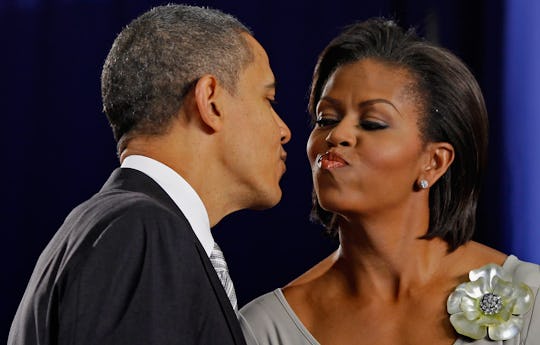 Chip Somodevilla/Getty Images News/Getty Images
Obama Reportedly Almost Married Someone Else
You're probably going to want to sit down for this one. A new biographer claimed recently that Barack Obama proposed to another woman before Michelle, way before he even met the former FLOTUS, which is kind of unbelievable, given how close the former first couple is. OK, it's not unbelievable at all, it happens all the time, to pretty much everyone. True love is hard to find. But it is a little crazy to think that the badass, empowering love the former first couple exudes might never have been.
The biography, Rising Star: The Making of Barack Obama by David J. Garrow includes an interview with Sheila Miyoshi Jager, who claims that Obama proposed to her in 1986. Alas, she said no, but not because she didn't like him. It was reportedly because her parents (how dramatic, right?) didn't want her to get married at the time because they thought she was too young. At 23, she was two years younger than her boyfriend, Barry. Yup, that's what he went by back then.
They continued to date, Jager said, but the relationship reportedly started to become strained. According to Jager, they reportedly grew apart mainly because of Obama's political ambitions. But it might be best to know that The Washington Post review of the biography says that Garrow "ruthlessly" portrays Obama's ambition, so who knows what the real story is. (Romper has reached out to the Obamas' representatives for comment on the claims.)
Jager told Garrow, "I remember very clearly when this transformation happened, and I remember very specifically that by 1987, about a year into our relationship, he already had his sights on becoming president." She claimed that, at around the same time, Obama allegedly became very aware of how his interracial relationship might be perceived by potential voters and that he started going by Barack.
They reportedly dated up until he entered Harvard Law School in 1988, she claimed, when Obama allegedly asked Jager to leave her dissertation work in South Korea and marry him in Cambridge, Massachussetts. Again, she reportedly declined, but claimed it was likely for the best.
Things did only get better after that, for both of them. Obama met Michelle at a corporate law firm in 1989 and they started dating seriously shortly thereafter. Jager said that after the Obamas married in 1992, she reportedly didn't hear from him at all until after the 9/11 attacks, to check in, and then later to reportedly ask her if a biographer had contacted her about their relationship. Obviously, one did.
Everyone has a past and it's likely that this is no news at all to Michelle, whom Obama called at his farewell address "his best friend." So the next time you start beating yourself up for striking out in the love department, just remember that even Barack Obama, one of the most powerful and famous men in the world, allegedly couldn't get his girlfriend at the time to say yes to his proposal — but hey, it all worked out for him in the end.