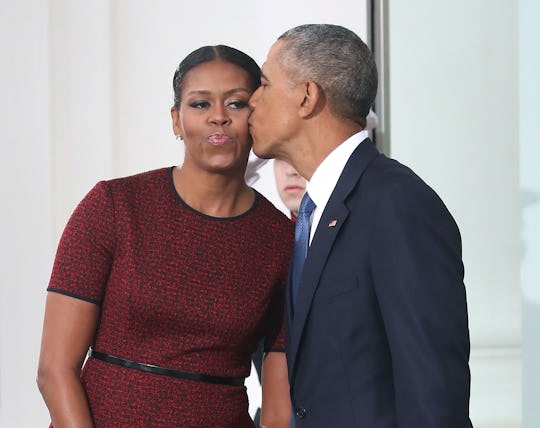 Mark Wilson/Getty Images News/Getty Images
Obama's Message To Michelle On Their 26th Wedding Anniversary Will Hit You Right In The Feels
Barack and Michelle Obama have given meaning to the term "couple goals" ever since the world was introduced to them in the early 2000s. And just because the couple hasn't lived in the White House for the past two years doesn't mean they've stopped defining goals. After reading Barack Obama's message to Michelle on their wedding anniversary, people will definitely be reminded of how much love exists between them.
On Wednesday, Oct. 2, the couple celebrated their 26th wedding anniversary — and second wedding anniversary outside of the White House since 2008. Although the couple has been laying low recently — with Obama spending his time giving speeches, according to Town & Country, and both of them working on producing content for Netflix, according to Business Insider — they took to the public to share the sweetest messages with one another on social media. Obama's message to his wife was sweet and simple.
"For 26 years, you've been an extraordinary partner, someone who can always make me laugh, and my favorite person to see the world with," Obama wrote on Instagram.
And the photo he posted of his wife — a close up of her face starting out of an airplane window — is just as beautiful as his message for her.
Michelle, on the other hand, didn't choose to post some never-before-seen photo of the couple to social media or draft a special tweet wishing her husband a happy anniversary. Instead, she simply retweeted her husband with her own sweet message (because this is how romance works in 2018). Michelle wrote, on Twitter:
Thank you, Barack Obama, for 26 plus years of love, trust, and respect — for being a man who always lifts up and honors me and our wonderful girls. Each day I'm with you, I'm reminded of what a treasure you truly are to all of us.
If people were already missing the Obamas being in the White House, this will hit them right in the feels.
But this isn't about politics — this is about the solid relationship that Obama and Michelle have. The couple is not only one of the most stylish couples to ever grace the White House, according to In Touch Weekly, but one of the realest couples, too; they were never afraid to show their affection for one another and let the public see how a marriage works. Throughout Obama's eight years in the Oval Office, the couple expressed their appreciation for one another — and the president even told supporters at one rally that he "married up" when he tied the knot with Michelle, according to People. Everyone, take notes.
Although their marriage might be the image of perfection, Michelle revealed in an Instagram post earlier this summer that their 1992 wedding was anything but. In addition to waking up on his wedding day with a smile on his face, Michelle wrote that Obama woke up with a "nasty head cold."
"Somehow, by the time I met him at the altar, it miraculously disappeared and we ended up dancing all night," Michelle wrote. "I can't imagine going on this wild ride with anyone else."
And what a wild ride it has been. Between raising two kids, entering politics, and then them "retiring" in their 50s, there is no way that either of them could have predicted where they would be now on their wedding day 26 years ago.
But one thing that has remained consistent throughout the past 26 years has been their love for one another.