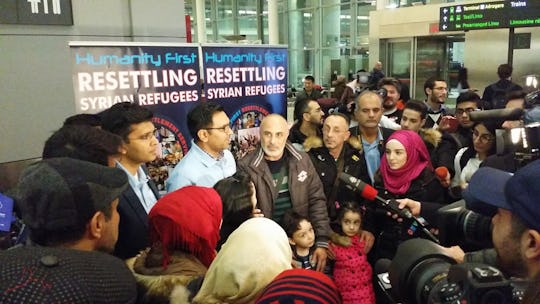 Domnic Santiago/Flickr
Barack Obama's Response To HONY's Syrian Refugee Photo Gives Us Hope For The Future
The wildly popular photo stream, Humans of New York, has been doing a series on Syrian refugees the past few weeks. The posts are extremely powerful, heartbreaking, and, as you might imagine, humanizing. Just last night none other than the President Barack Obama commented on a HONY post and his words have given both refugees and Americans hope for a brighter future.
It's not unusual for a Humans of New York photo to get tens of thousands of shares, comments, and likes, but such a high-profile comment is rare. The photo in question was of an older man in a shiny silk suit and tie sitting on a futon in a sea-foam green room. He's also a Syrian refugee. Where is he in the photo? We don't know. But we do know where he's going: Michigan. The caption of the photo, in typical HONY style, is in the man's own words.
I still think I have a chance to make a difference in the world. I have several inventions that I'm hoping to patent once I get to America. One of my inventions is being used right now on the Istanbul metro to generate electricity from the movement of the train. I have sketches for a plane that can fly for 48 hours without fuel. I've been thinking about a device that can predict earthquakes weeks before they happen. I just want a place to do my research. I learned today that I'm going to Troy, Michigan. I know nothing about it. I just hope that it's safe and that it's a place where they respect science. I just want to get back to work. I want to be a person again. I don't want the world to think I'm over. I'm still here.
The message is not only incredible because of the inventions he's mentioning, but also because of its resilience. Despite what has happened to this man's country and livelihood, he's ready to keep going, keep working, keep inventing. That spirit embodies the American dream, and must have been what motivated Obama to respond. Beneath the photon, the president wrote:
As a husband and a father, I cannot even begin to imagine the loss you've endured. You and your family are an inspiration. I know that the great people of Michigan will embrace you with the compassion and support you deserve. Yes, you can still make a difference in the world, and we're proud that you'll pursue your dreams here. Welcome to your new home. You're part of what makes America great.
A personal welcome from President Obama is not a bad way to start a new chapter in a new country. With all of the turmoil and hateful rhetoric circulating after the Paris attacks, this message is a welcome dose of hope. I can't help but feel like we just won a great person to our team. Take that, other countries! We've got this amazing Syrian inventor and wish him the best as he starts the next part of his life.
Images: Domnic Santiago/Flickr