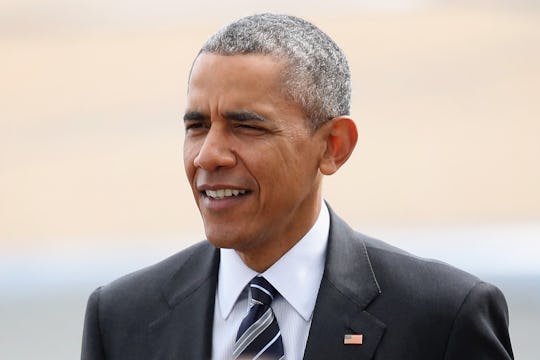 Dan Kitwood/Getty Images News/Getty Images
Barack Obama Responds To The London Attack
While he may no longer be the current President of the United States, former President Barack Obama still took the time to acknowledge the terrorist attack in London on Wednesday in the form of a tweet from his personal Twitter account. Barack Obama's response to the London terror attack sets a beautiful example of leadership, compassion, and global citizenship.
The attack in London occurred Wednesday afternoon when the attacker drove a car into a crowd of pedestrians on Westminster Bridge, then crashed the vehicle before the entrance to the houses of Parliament. The attacker then attempted to gain entrance to the buildings, which house the majority of Britain's government officials, at which time he fatally stabbed a police officer. The officer, later identified as Keith Palmer, had given 15 years of service and was not armed at the time of the attack. 29 people were injured, many of whom had been on the bridge over the Thames at the time of the attack, and four people have died — including the attacker, according to the latest reports from The Guardian. As London is a very diverse city, the victims were of a variety of nationalities and ages — at least three are children.
British Prime Minister Theresa May reported early Thursday morning that the assailant is believed to have been a British-born man previously investigated by MI5 for "concerns of violent extremism", according to The Guardian. However, the individual had not been part of any current surveillance or investigations by the British government.
In a broadcast to their propaganda network, Amaq, ISIS claimed responsibility for the attack, claiming that the man involved was "a solider of Islamic state", however these claims have not yet been verified, according to CNN.
Obama's message of support to Britain is reminiscent of his response to the murder of Jo Cox, a member of the British Parliament who was murdered last year in what the British government has treated as a terrorist attack, carried out by a man named Thomas Mair. In the wake of her death, President Obama met with the Cox family at the White House to discuss not only her legacy, but what could be done to prevent such attacks from happening again.
According to The Telegraph, current President Donald Trump spoke to the British Prime Minister shortly after the attacks occurred:
President Donald J. Trump spoke today with Prime Minister Theresa May of the United Kingdom to offer his condolences on today's terror attack in London and his praise for the effective response of security forces and first responders. He pledged the full co-operation and support of the United States government in responding to the attack and bringing those responsible to justice.
May was the first foreign leader to visit President Trump at the White House shortly after he was inaugurated in January.