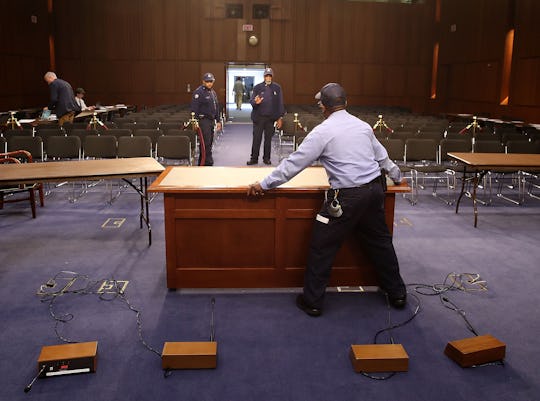 Mark Wilson/Getty Images News/Getty Images
Have A Covfefe-Inspired Cocktail While You Watch The Comey Hearing
On Thursday, former FBI director James Comey will appear before the Senate to testify and field questions pertaining to his former boss, President Donald Trump. Comey's testimony is being highly anticipated — in fact, it's being touted as the "political Super Bowl." Because nothing pairs better with a Senate Intelligence Committee hearing than a whiskey sour, across the country, bars are opening early for the James Comey hearing. It's official: After this turn of events, 2017 could not be any more bizarre.
Forget the NBA finals, this is one event that you'll want to tune into. Comey is expected to provide details on the memos that he wrote after each time he met with the president, according to CBS News. This could potentially include details about the conversation that he had with Trump when the president asked him to drop the FBI's investigation of Michael Flynn.
Comey's prepared testimony, the introductory statement for which was released on Wednesday, gives just a taste of what's to come. And if it is anything like what people are anticipating, there might be a lot more drama to look forward to.
Naturally, business owners wanted to capitalize on that fervor, with a number of bars in the nation's capital and across the nation making the choice to open early for patrons and politicos alike. You know, to watch the big game—I mean testimony, and to grab a covfefe inspired cocktail while they're at it.
There's just one hang up — Comey's testimony starts at 10 a.m. Eastern Time. Yeah, thats 10 in the morning. Not exactly the kind of time some might feel up for downing hard liquor or tossing back a couple cocktails. But for those who like to take their coffee (or covfefe) Irish, you're in luck.
Some bars in Washington D.C. are opening as early as 9:30 a.m. and offering drink specials just for the occasion. Some bars in San Francisco, California will open at 7 a.m. Pacific Time, due to the time difference, and others in Houston, Texas, according to CBS News, will be opening early for the hearing as well.
Just when you thought it couldn't get any crazier, one Washington D.C. bar is also reportedly offering a free round of drinks for bar patrons every time Trump tweets during the testimony (the president has said that he "may" live tweet if he feels he needs to respond, which means he more than likely will).
Your liver or boss might not be too pleased if you start drinking at 10 a.m. on a Thursday, so be responsible and consider your schedule before heading over. But if you can swing it, and want to watch the political world burn from the comfort of your favorite local watering hole, have at it.