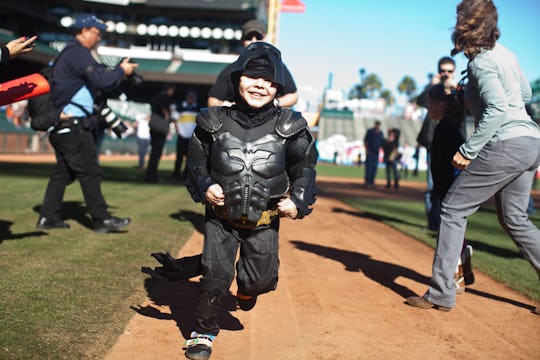 Ramin Talaie/Getty Images News/Getty Images
Five Years After Make-A-Wish, The Adorable "Batkid" Is Officially Cancer Free
Some of you might remember "Batkid," a child named Miles Scott who was battling leukemia in 2013. Thanks to the Make-A-Wish Foundation, the city of San Francisco — along with the help of its mayor and 20,000 volunteers — transformed into Gotham City for a day, a dream come true for Scott. As for how Scott is doing now? Rejoice, because Batkid is officially cancer free, according to The Washington Post.
When the world first met Scott, he was a 5-year-old boy battling leukemia, a diagnosis he first received at age 1, according to USA Today. Scott's journey was far from easy, to put it mildly, so supporters were thrilled when in November 2013 he got to live out his fantasy of saving Gotham City as "Batkid." From riding in a Batmobile to receiving a key to the city, Scott enjoyed an adventure that captivated people across the United States. In fact, even President Barack Obama participated in the event. "Way to go, Miles. Way to save Gotham," Obama said in a recorded video message, according to the Los Angeles Times. Ugh, my heart.
As if Scott's story isn't inspiring enough, the Make-A-Wish foundation announced he's in remission. The foundation announced on its website:
Since his crime fighting day five years ago, Miles has returned to being a typical kid—playing little league, going to school, helping his family farm, and even selling his first market goat in the local fair! Now 10 years old and in fifth grade, Miles loves science and robotics. After fighting his own heroic battle with leukemia since he was a year old, Miles visits his oncologist once a year, and has been in remission from leukemia for the past five years.
The foundation also revealed that Scott's parents welcomed his second sibling, a baby boy named Ben, after he got his wish. Yep, that's right — Scott's parents have three healthy boys in their family. What a heartwarming development, right?
As one might expect, supporters are ecstatic that Batkid is thriving five years after his Gotham City adventure.
"I remember #Batkid day in SF. Twitter was wild with Batkid sightings!" someone said on Twitter. "So much fun, and glad to hear he is doing well and in good health. What a blessing for his parents!
Another person chimed in: "Keep it up Batkid. I'm with you in the leukemia fight. I have CLL & PLL. Let's keep fighting!"
"Remember watching this wish unfold. What a great day! Congrats Miles!" one commenter wrote.
Make-A-Wish's Northern California branch also chimed in, noting on Twitter that "wishes have proven physical and emotional benefits and can produce better health outcomes."
If you'd like to help other kids' wishes come true, you can donate via Make-A-Wish's website. And please note there are many ways to contribute — from donating airline miles to contributing money monthly, the options are endless.
So, here's to Batkid aka Miles Scott. You're a true superhero through and through.