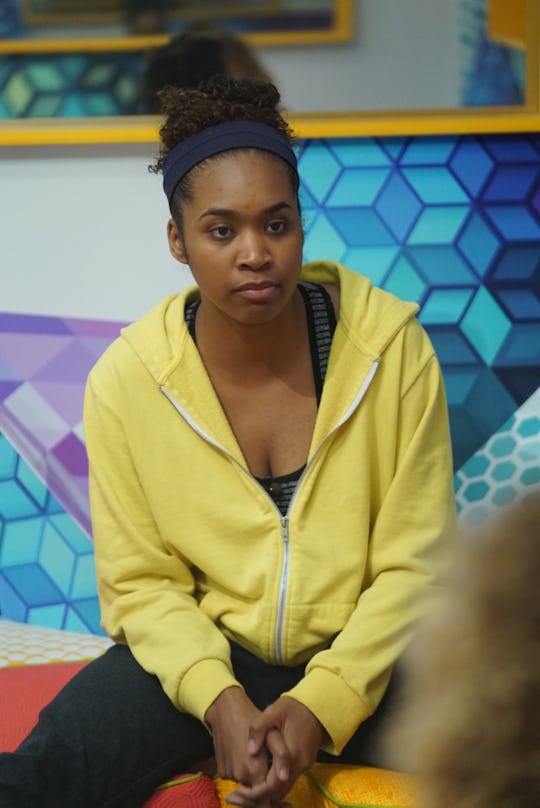 Sonja Flemming/CBS
The First Houseguest Is Sent To The Jury House On 'Big Brother'
This has been another wild week in the Big Brother house. With the introduction of the "Hacker Comp" and power apps still in play, drama and distrust was at an all-time high. After there was a total of four people on the block this week, it was Bayleigh who became the first person sent to jury on Big Brother.
From the moment Angela became head-of-household, her target was Bayleigh. Because Bayleigh made the mistake of telling Rachel about her power app and then Rachel proceeded to tell her alliance, Angela wanted Bayleigh out before she had the chance to use her app against Angela or someone on her side of the house. Naturally, everyone on Level 6 was in agreement.
Thus, Angela nominated Scottie and Rockstar as pawns, but then the Hacker came into play. Haleigh won the first Hacker Comp and used her new power to replace Scottie with Tyler as one of the nominees, infuriating Tyler. After planting what they believed were seeds in Bayleigh's head, Angela and the rest of Level 6 became certain that Bayleigh was the Hacker, giving them even more of reason to put Bayleigh on the block and send her to jury.
So when it came time for the veto ceremony, Angela executed her back door plan, taking Tyler off the block and putting up Bayleigh, claiming it was because Bayleigh was the hacker. Naturally, Bayleigh denied it and discovering that her ally was being blamed for her actions, Haleigh decided to call a house meeting and confess. Unsurprisingly, it did not end well.
With the truth out, Bayleigh wanted an apology from Tyler, who continued to claim she was the hacker, but Tyler wasn't willing to apologize. Bayleigh then accused Tyler of lying about not suggesting Angela as a possible replacement nominee when Bayleigh was HOH. However, as the flashback clip showed, Tyler was telling the truth about only asking Bayleigh if she would put Angela if the veto was used. Regardless, Bayleigh would not back down and she started screaming so much that she started bleeding in her mouth. In a word, it was intense.
However, during the live eviction Bayleigh had apparently changed her tune. Her speech was quite calm and she even apologized to Tyler and said she loved everyone in the house. Whether it was a last ditch effort to try to get the votes to stay or if she was just over the whole thing, Bayleigh was still evicted with a 6-1 vote. Only Sam voted to evict Rockstar.
Though Bayleigh is now out of the Big Brother house, she'll be moving into the jury house as the first jury member. This means Bayleigh will be amongst the group of nine who get to decide who wins the $500,000 grand prize at the end of the game. Knowing this, most of the goodbye messages were pretty tame this week, except for Brett's. Clearly he doesn't understand jury management, although if we're being honest the odds of Brett being in the Final Two are quite slim. Regardless, if he does somehow end up there, it's unlikely he'll get Bayleigh's vote.
If you're on Team Foutte, now known as The Hive, there is some good news. After Bayleigh was evicted, Haleigh become the new HOH and you better believe she's going to get revenge for her friend Bayleigh, whether or not it's good for her own game. Though the Hacker Comp is still in play, as Angela proved this week, even with the Hacker the HOH can still send their target to jury. So, who will Haleigh send to jury next? Fans will just have to keep watching to find out.