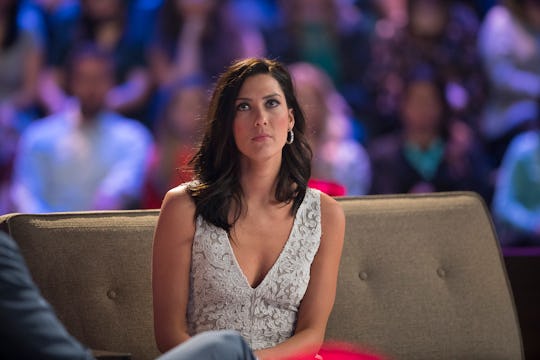 Paul Hebert/ABC
Becca Confronted Arie On 'After The Final Rose' & 'Bachelor' Fans Totally Had Her Back
The Bachelor's After the Final Rose special brought Arie, Becca, and Lauren back in the same room for the world's most awkward group breakup processing session. After Arie dumped Becca, he flew to Virginia Beach in an attempt to reconcile with Lauren, but Becca confronted Arie on After the Final Rose and it was pretty respectful, all things considered, proving yet again that Becca is the picture of grace and strength.
First of all, in interviews following his engagement trip to Peru, Arie led us all to believe that he took a huge risk by breaking up with Becca to pursue a relationship with Lauren. But it quickly became clear during After the Final Rose that, before he dumped Becca, he had a phone conversation with Lauren in which he was reassured that she would take him back if he asked.
In fairness, Becca and Arie had discussed him reaching out to Lauren for a closure conversation, but he didn't tell Becca that he actually went through with it and called her until a week after the fact. And Becca certainly didn't know that they were discussing potentially getting back together. Becca said that the pair were looking at houses together and even discussing what to do with her place in Minnesota, when, about a week before Arie broke up with her, she sensed something was wrong. When she finally did confront him on After the Final Rose about all of this, she had the full support of Bachelor Nation behind her.
Becca asked Arie a series of pretty straightforward questions, and even though most of us would probably yell, cry, rage, or otherwise show a colorful display of emotions, Becca remained cool, calm, respectful, and utterly over him. They even shared a polite hug when he first came out on stage. Arie shared that it felt good to see her and expressed empathy for her experience in the time since the brutal breakup clip aired. Becca's biggest question for him was when he first knew that he wanted to end his relationship with her and pursue one with Lauren. Arie revealed that it all unfolded in his phone conversation with Lauren, which Becca believed to be a closure conversation, when really it was one of reconciliation.
She also wanted to know why Arie hid the conversation with Lauren from her for an entire week, especially when they had talked about it. Arie revealed that he needed time to sort out his feelings, but then he halfway blamed the long-distance relationship and Becca being busy with work for stalling, which earned him some booing and hissing from the audience.
"I think that the reason why I did it in the way that I did it was because I wanted everyone here and at home to know that this was on me, and it wasn't on you," he said of his decision to break up with Becca on camera.
She did say that she'd always have love in her heart for Arie, but Becca's moved on, ready for the next chapter of her life, and ready to find someone who's a better fit for her. Right on time, too, because she's the new Bachelorette!
For his part, Arie revealed that he regretted proposing. When Becca asked why he did it then, he said that he simply buckled under the pressure, but he took accountability for it and apologized. Becca said she accepted his apology and forgave him. She even generously wished him and Lauren happiness, but she also urged him to be careful with Lauren's heart and be completely honest with her from here on out. Heed that advice, dude.
Check out Romper's new video series, Romper's Doula Diaries:
Watch full episodes of Romper's Doula Diaries on Facebook Watch.