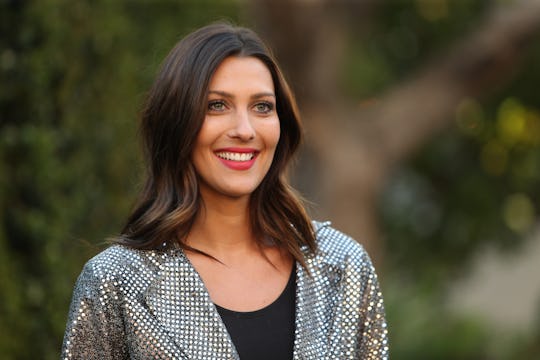 Paul Hebert/ABC
Becca Got To Know A Few Of Her 'Bachelorette' Contestants On 'ATFR' & Fans Already Love Them
There was one good thing that came out of Arie's season of The Bachelor and his breaking off of the engagement with Becca. Becca became the next season's Bachelorette. And almost immediately after Chris Harrison announced it, Becca met her 2018 Bachelorette contestants on After the Final Rose and honestly I might already be in love with all of them. I have a feeling that Becca is going to make a lovely and winning lead of the series and now I'm really excited to see more of these dudes.
Well, she didn't get to meet all of them. But she did get to meet five of them. And all five really brought out all the stops (though extra style points goes to the guy who brought an actual horse on stage). The past couple of days have been pretty rough for Bachelor Nation, so I can only imagine how it's been for Becca. As a nation, we watched Arie propose to Becca, then break up with Becca, and then propose to Lauren. Through it all Becca handled herself with grace and humility and the world fell in love with her. So it was a huge relief when Becca was finally announced as The Bachelorette.
First things first, Chris Harrison disrupted the normal proceedings after announcing Becca as the Bachelorette by bringing all of Becca's friends from Arie's season on stage to bask in the moment with her. It was a truly beautiful moment of friendship and female support that I love. And then he brought out a few of the men who will be competing for Becca's heart in one of the cutest reality television segments I've ever seen. Based on first impressions alone, each of these guys is a winner and I would be happy to see her with any of them (at least that's what I think now).
First up was Lincoln, who spoke in an accent I couldn't quite place but who said what no one else on stage had said so far, "Arie is a wanker." That alone would have been enough for him to charm me for life, but he was also adorably earnest and clearly nervous to be on camera. Next up was Chase, who seems extremely smooth. He told Becca that when one door closes another opens, and he would like to be that open door for her. Nice.
Then came Ryan, who entered playing a song he wrote accompanied by the banjo, which is a thing that it is very easy to look dorky doing. Ryan, however, looked like a dang snack and I was completely charmed. Darius followed Ryan, and graciously apologized to Becca on behalf of his entire gender. He also sweetly said, "that's the past and this is the future."
The final preview contestant that Becca got to meet was Blake, who somehow managed to overshadow all of this masculine charm and kindness by bringing in a horse named Bradley. Becca asked if she could ride the horse and Blake explained, "So as the saying goes when you fall of the horse you gotta get back up again. So Becca, I brought you this horse. And I wanna be the man who helps you get back up again." I am dead.
It is no easy task to make a gimmick sincere, so my most honest hats off to this guy. He has this game on lock.
And with that, I could not be more excited for Becca's upcoming season as lead of The Bachelorette. Everyone has seen how much she deserves this, and I really, really, really hope this works for her.
Check out Romper's new video series, Romper's Doula Diaries:
Watch full episodes of Romper's Doula Diaries on Facebook Watch.