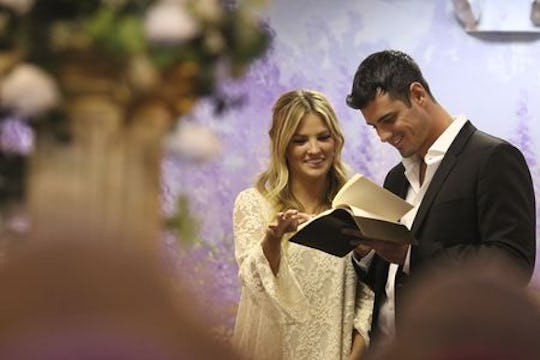 ABC/Ronda Churchill
Becca's Virginity Isn't Important & 'Bachelor' Nation Should Probably Stop Focusing On It So Much
By now, 26-year-old Becca Tilley is a Bachelor veteran, capturing Chris Soules' heart and now working on Ben Higgins'. But for whatever reason, whenever we hear of the contestant, there seems to be one magical word accompanying her presence: virgin. Honestly, Becca's virginity isn't important because she's so much more than that.
Since her time as a serious competitor for Chris Soules' hand in marriage on the last round of The Bachelor, Becca's sex life and personal choices have been out for the world to see. When she finally made it to the Fantasy Suite, Becca revealed the truth regarding her virginity to Chris, letting him know that it was something very important to her, and something she wanted to share with someone whom she truly loved. Obviously, this was Becca's way of telling Chris not to make assumptions about that night, but she was also opening up to him about her personal life in a way that she found difficult to previously. From what we know, that romantic night with Chris didn't change anything in regards to Becca's V card.
And that's just fine.
I know what you're thinking: the girl is on reality TV, of course some of her most personal secrets will be aired out for the press and social media aficionados to do with as they see fit. But why is Becca perpetually The virgin? Even on tonight's episode, with news reaching the girls that not only did Becca get the second solo date, but that solo date was wedding-themed, Jubilee felt the need to make a comment on Becca's virginity. "If she hasn't lost it in 26 years," said Jubilee, in regard to Becca and Ben's one-on-one chapel date, "I doubt it's going to happen in six hours. Just saying."
Is it so unbelievable that a woman at age 26 would still be a virgin? What's more, why does Bachelor Nation feel the need to obsess and police prospective Bachelorettes' sexuality in a way they obviously don't do with the dudes? Might I remind you that last year during Kaitlyn's season, the former Bachelorette asked Ben if he was a virgin. While he replied no, that was the last we heard of the matter. (You probably forgot about that one, right?)
And yet, we will never forget about the drama surrounding Kaitlyn after she slept with Nick Viall *gasp* before she entered the Fantasy Suite. The backlash surrounding that was almost instant, and Bristowe soon became one of the most unjustly slut-shamed Bachelorettes in the show's history.
Naturally, Becca's virginity came up on her date with Ben. It was very sweet that Ben let Becca know that he respected her commitment to God, and herself, but still, why are we talking about it?
Becca is a pretty strong competitor to win over Ben, and it's time for Bachelor Nation to try and know her beyond the "V" word. At the end of the day, it truly doesn't matter.
Images: ABC/Ronda Churchill