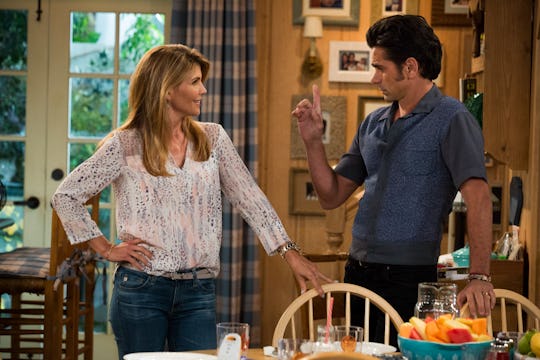 Michael Yarish/Netflix
Becky & Jesse Want To Adopt A Baby On 'Fuller House' Season 2, But The Decision Is Fraught
(Warning: This post contains spoilers from Episode 6 Of Fuller House.) Netflix took its time warming up to the extended Tanner family reunion on Season 2 of Fuller House. The first season presented us with the original cast in the very first episode, but this time around, we had to wait until the halfway point of the season to see Danny, Uncle Joey, Uncle Jesse and Aunt Becky. In Episode 6, titled "Fuller Thanksgiving," the extended family gathers together for the holiday, leading D.J. to some predictable stress as the hostess. Among the episode's big reveals is that Becky and Jesse want to adopt a baby on Fuller House Season 2, but the occasion isn't quite as happy as it seems.
Uncle Jesse and Aunt Becky come on the scene fighting, although it isn't clear exactly what the spat is about. (If it was still the late-'80s/early-'90s, this would almost certainly be a lead in for a very special episode about parents divorcing.) D.J. worries, as she is prone to do, about whether their fighting will ruin Thanksgiving. Later, when Jesse and Becky are up in their old attic bedroom, we learn what exactly is bugging them.
It turns out that Becky is feeling a little baby crazy (being around her grandnephew, the adorable baby Tommy, probably isn't helping) and she's trying to wheedle Jesse into adoption. He points out that he's old and tired and that by the time their baby was a teenager, he'd be on his third hip. Becky's devastated, and it's a cool twist on the scene from the original series in which Becky announces she's pregnant with the twins in the very same room, over a dinner she's cooked of baby vegetables.
Later, while D.J. is trying to capture a Thanksgiving family photo, it comes out that Jesse doesn't want to adopt and the whole family turns on him for "hating babies" (which, to be fair, he anticipated and thus was trying to keep it under wraps). Stephanie coaxes him into reading Tommy a bedtime story to remind him how much he loves babies (and to remind us how much we love it when he reads the story of The Little Engine That Could in his Elvis voice). Just as Jesse starts to warm up to the idea of having babies in his life again, Becky interrupts to tell him she had a chat with D.J. and doesn't want to force him into anything. After raising three girls with Danny and two boys with her, she gets that he needs a well-deserved break.
Of course, in the end, Jesse comes around and announces to the Thanksgiving table that he's been convinced. He agrees to adopt, which means that, in true Tanner family fashion, there are going to be some really weird intergenerational age dynamics.