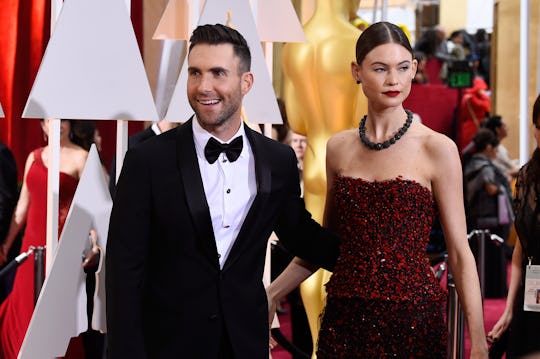 Frazer Harrison/Getty Images Entertainment/Getty Images
Behati Prinsloo & Adam Levine Are Expecting Baby No. 2!
It looks like congratulations are in order! On Wednesday, Behati Prinsloo showed off a gorgeous bump in an Instagram shot, writing, "Round 2..." in the caption. And with that, it sounds like Behati Prinsloo and Adam Levine are expecting baby number two! And, you guessed it, fans went wild.
This will be the second child for the model and her singer husband, who welcomed their daughter, Dusty Rose, in September 2016. Prinsloo has already spoken up in the past about how much she and Levine love their new roles as parents, so her second pregnancy announcement is definitely exciting news for the growing family.
"I think for both of us, we're just so obsessed with being a family and having a family — seeing this next step in our life," Prinsloo told People in August. "[Levine]'s such an incredible dad, and so excited to see her grow up. It's so awesome."
Levine has been equally open about his love of fatherhood. "I have a daughter, I have the most beautiful wife in the entire world," he said at his Hollywood Walk of Fame ceremony, according to Us Weekly. He continued:
I am one of the luckiest people who's ever lived and it has nothing to do with me. It has to do with the people who love me the most, and so I thank all of those people.
Prinsloo and Levine got married in Mexico in 2014 after two years of dating, and soon after, the couple were talking about starting their family. Just a month after their wedding, Levine told Ryan Seacrest that he wanted a big family. "I want to have 100 kids," he said in an interview, according to People. "I want to have more kids than is socially responsible. We can't do it right now, but it's in the works."
Prinsloo shared similar sentiments (albeit on a smaller scale) during an interview last year. "I've always wanted a family since I was a little girl, a big family," Prinsloo told The Lowdown with Diana Madison in March 2016. "I'm an only child so I wanted like 10 kids, for sure."
Now that Prinsloo has shared the news of baby number two, congratulations have started rolling in from fans (who are all, by the way, loving Prinsloo's Instagram reveal and sharing it widely):
In the past, Prinsloo has talked freely about the sleep deprivation and long hours that come with motherhood, but she says it's all worth it. "It's always worth it when you see her face smiling back at you," she told People of Dusty in August.
Prinsloo also told the magazine that the intensity of her maternal love had surprised her, saying:
I love Adam, and when you get married and you fall in love with someone, you think that there's no greater love than that love. And then you have a baby, and it's just next-level love. You think there's a limit to love — like, 'This is the thing that I love the most' — but honestly, I think what surprised me most is how intense that love is, and also how hard, at times, it is.
Preach, girl. Prinsloo and Levine are clearly loving their new adventures in parenting, and it's great to see their little family growing. Neither Levine nor Prinsloo has shared any extra information about Dusty's upcoming younger sibling, but hopefully the world will get a few more Instagram updates as the two prepare to welcome their little one.
Congratulations to Prinsloo, Levine, and Dusty! Life is about to get a little more hectic and a lot more fun.
Watch Romper's new video series, Romper's Doula Diaries:
Check out the entire Romper's Doula Diaries series and other videos on Facebook and the Bustle app across Apple TV, Roku, and Amazon Fire TV.