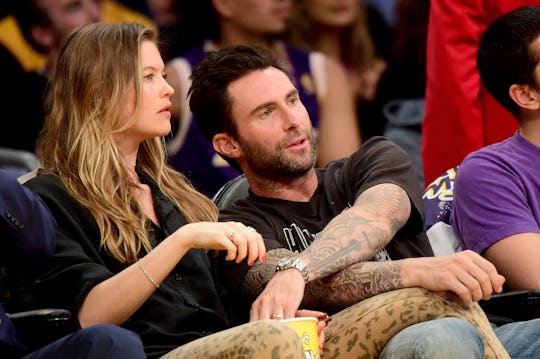 Harry How/Getty Images Entertainment/Getty Images
Behati Prinsloo & Adam Levine Are Having A Girl & The Couple Are Already Making Plans
The news that Adam Levine and Behati Prinsloo are having a baby is a whole month old now, but on Tuesday, fans of the Maroon 5 singer and the Victoria's Secret model got an exciting update. According to multiple sources, Levine and Prinsloo are having a baby girl! Baby Prinsloo-Levine is due in September, and judging by all the excited social media posts from her parents-to-be, she will be loved. (I'm sorry but yes, I had to bring it back to 2002.)
Although the couple hasn't officially confirmed the sex of the baby yet, Us Weekly reports that Prinsloo, age 26, went shopping for baby accoutrements with fellow Victoria's Secret Angel Lily Aldridge recently. The outlet reported:
An eyewitness says the Angels browsed the furniture department, but notably bypassed the boys' clothing section. "This is a whole new world!" the Namibia native remarked to Aldridge, 30.
Levine, 37, and Prinsloo started dating in 2012 and married in 2014. This baby will be their first child. In anticipation of her arrival, they recently put their New York loft on the market, and have been searching for the perfect home in which to raise her ever since. New home, plus gorgeous, talented parents who get to jet-set around the globe and have a bajillion cool celebrity friends? Yeah, this baby's got it made.
Levine officially confirmed the pregnancy on April 2, posting an Instagram of Prinsloo wearing a Lakers hat and a bikini, and captioning it, "My two favorite laker fans." So that's adorable.
Levine doesn't want this daughter to be an only child either. Far from it — when asked by E! News how many kids he wanted, he said, "Like 17. Is that reasonable? I love kids so much, though." Which, well... good luck with that, Prinsloo.
Expecting a kid certainly hasn't slowed down either member of the power couple. Prinsloo recently collaborated with Juicy Couture for the Behati x Juicy Couture Black Label on a collection that she describes as both "comfy yet cute." (Given that I spend far too much time in sweatpants that nail the first but not the second, I approve of that mission statement for a clothing line.) Meanwhile, Levine continues his work as a judge on The Voice, and is, I imagine, busy thinking up the next mega-hit song to top "Sugar" or "Moves Like Jagger."
All the best to Levine and Prinsloo as they prepare for the arrival of their baby girl!