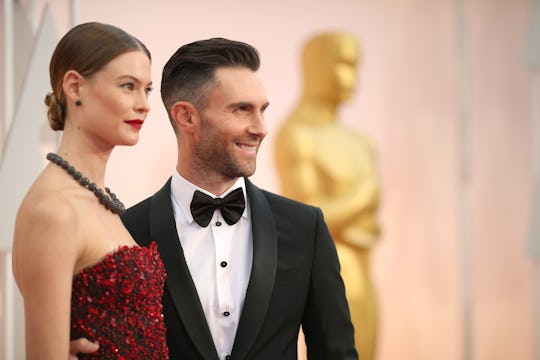 Christopher Polk/Getty Images Entertainment/Getty Images
Behati Prinsloo Gives Birth To Baby No. 1 With Adam Levine
Another bundle of joy has arrived in Hollywood. E! News reports that Victoria's Secret model Behati Prinsloo gave birth to her first baby with husband Adam Levine this week. The couple welcomed a beautiful daughter to their family. Prinsloo's due date was reported to be Sept. 20, according to UsWeekly, but her new daughter kept her waiting an extra day. She arrived on Sept. 21st. According to the outlet, no other details, including the baby's name, have yet been released.
While not much is known about baby girl Levine, her mom has been adorably documenting the pregnancy on social media, much to the delight of fans everywhere. Ever since the news broke back in March that the Namibian model was expecting her first child, Prinsloo has been posting pics of her bump progression to her Instagram account. Her last update was posted only six days before delivering her daughter on Wednesday.
The mom-to-be clearly wasn't the only one excited about her baby girl's arrival. Prinsoloo's husband, Maroon 5 frontman Adam Levine, has also been posting sweet, and hilarious photos of his wife throughout her pregnancy.
Prinsloo and Levine tied the knot at Flora Farms in Cabo San Lucas, Mexico back in July 2014. A few months after their destination wedding, Levine revealed to E! News that he wanted to have a big family with his new bride. When asked just how many kids he'd like to have, the singer joked, "Like 17. Is that reasonable?" Only 16 more to go now that his daughter has finally arrived.
Earlier in the month, Levine had to postpone some shows with his band, Maroon 5, as Prinsloo's due date approached. He posted a video to his Twitter account, explaining the situation to his fans, saying,
I wanted to reach out to you personally and let you know that I apologize for the recent development in our tour where we had to cancel some shows. Sadly, it's just kind of par for the course. I'm having a baby soon and we kind of wanted to make sure we could do whatever we could to make it as smooth as possible. It's life. It's beautiful, but it can be complicated and I apologize.
While some Maroon 5 fans are sure to be disappointed, it's hard to stay upset when you know the shows were postponed for such a good reason. All you have to do is imagine how cute this baby is and suddenly you forget you were even supposed to go to a Maroon 5 concert in the first place. Levine is right where he needs to be, next to Prinsoloo and their new daughter's side.