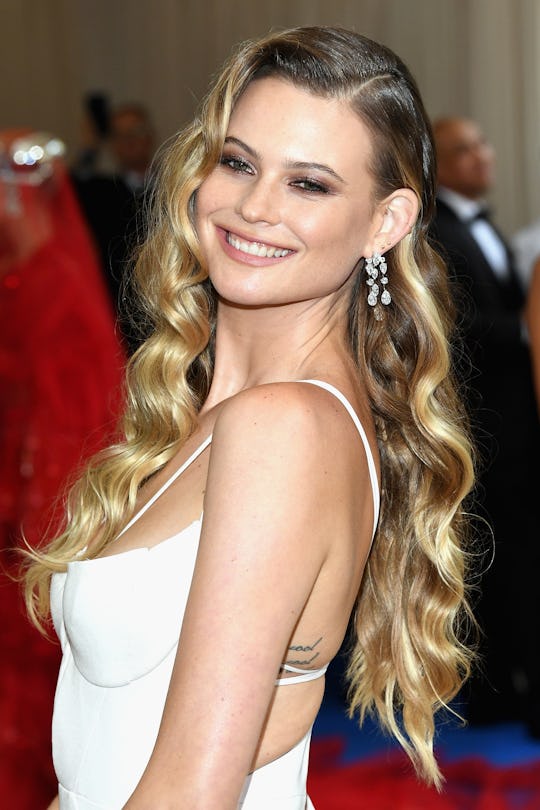 Dia Dipasupil/Getty Images Entertainment/Getty Images
Behati Prinsloo's Net Worth Is Proof Of Her Hard Work
For the past two weeks, fans haven't been able to stop talking about Behati Prinsloo's second pregnancy with her husband, Adam Levine. Although Prinsloo is mostly known for being a mom these days (not there's anything wrong with that), she has led, and continues to lead, a very impressive career as a model. Given Prinsloo's hard work ethic, it makes sense that Behati Prinsloo's net worth is significant.
According to The Richest, Prinsloo has a sizable net worth of $3 million. That's an amazing figure for anyone, but especially for someone who is just 28 years old. Not to mention Prinsloo didn't grow up in an excessively wealthy family, nor did her family have any connections in the modeling industry. In short, Prinsloo worked her way up to the top.
Prinsloo said of her modest upbringing, according to Fashionista:
I grew up in a small town in Namibia. My dad's a minister and my mom runs a bed and breakfast. I'm an only child and pretty much did kid stuff, gymnastics, track, riding, field hockey. I hung out on my friend's farm a lot.
As for how Prinsloo made her way from a small town in South Africa to runways across the world, she happened to bump into a modeling scout while on vacation with her grandparents, according to Speakers Corner. Thanks to that chance encounter, Prinsloo was able to get a foot in the modeling industry. Although Prinsloo's start in modeling was born from a fluke encounter, her success has nothing to do with luck or coincidence — in fact, Prinsloo is one of the most business-oriented models out there.
After years of being photographed for countless magazines and working for Marc Jacobs, Prinsloo landed her first major gig in 2008 when she was named as the new face of Victoria's Secret's Pink line, according to Vogue. The position was previously held by Heidi Klum, so you can imagine that the job gifted Prinsloo with some pretty pennies. It goes without saying that Prinsloo's ongoing work with Victoria's Secret is what makes her especially profitable and successful.
In 2010, Prinsloo decided to launch her own swimwear line with Victoria's Secret, "Behati Loves Pink," according to POPSUGAR. The business move was an incredibly smart one for many reasons, but especially because it cemented her relationship with Victoria's Secret.
As for why Behati decided to launch the line, she told Teen Vogue:
First of all, I wanted to see if I was able to do it, if I could create and really be able to pull it off! Its not easy being a designer its a lot of pressure! I take my hat off for all designers...a new found respect. I started easy with swim suits and cover ups, I love bikinis and what better place to start than Victoria Secret! I would love to have my own bikini store one day! Or even clothes maybe.
Although Prinsloo has yet to open up her own bikini store, she did manage to snag a permanent position as a Victoria's Secret "Angel." If you aren't well-versed in the kingdom of Victoria's Secret, that means Prinsloo has made it in terms of her modeling career. In addition to banking $100,000 for the annual fashion show, the notoriety of the position often leads to lucrative business deals. In August, Prinsloo was named the face of SK-II Skincare, and the deal made headlines.
Prinsloo said, according to People:
It's a great partnership. I'm super excited to be part of their 'One Bottle Away From' campaign. SK-II is such an iconic skincare brand, and for me being part of it is such an honor. I think for every girl out there, you always want to be part of something that you actually believe in.
When your bank account is suffering, (hey there, fellow millennials) it can be tempting to water down the success of models like Prinsloo. Sometimes it can feel like models simply have money thrown at them, even though the reality is that they work around the clock to maintain their success. Prinsloo has earned every penny of her net worth, and fans should celebrate her accomplishments.
Watch Romper's new video series, Romper's Doula Diaries:
Check out the entire Romper's Doula Diaries series and other videos on Facebook and the Bustle app across Apple TV, Roku, and Amazon Fire TV.