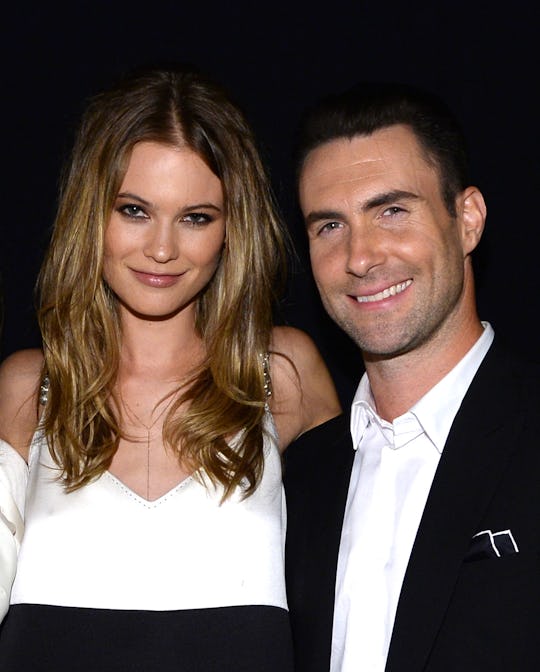 Larry Busacca/Getty Images Entertainment/Getty Images
Behati Prinsloo Reveals What She's Craving With Baby No. 2 & Moms Will Totally Get It
When pregnancy cravings strike, anything can happen — and people don't want to get in the way of that. Getting hangry (that's hungry and angry) is something that people don't want to become the victim of. Yes, pregnancy cravings are too real and any mom-to-be can get them — even supermodels who are married to rockstars, like Behati Prinsloo. Every pregnancy craving is unique, and Prinsloo's pregnancy cravings with baby number two target something that's not typically found in your average Victoria's Secret model's diet. But I, for one, can relate.
On Saturday, Prinsloo took to her Instagram story where she gave fans a little pregnancy bump update. Wearing just sweatpants and a sports bra (because comfort is absolutely key during pregnancy), Prinsloo showed off her bump's progress — but also revealed a key pregnancy craving.
In another video, posted to her Instagram story, according to E! News, Prinsloo captured her Fatburger fries and milkshake, gifted to her by her husband, Maroon 5 singer Adam Levine. "OMG I have the best husband," Prinsloo captioned the snap.
Behati is living the dream. I have no doubts that anyone would be opposed to having a gorgeous man, like Levine, deliver them fries and a milkshake at their request.
Prinsloo also snapped a shot of sliced apples with Tajin — a seasoning salt made with chile and lime — on Friday, according to Entertainment Tonight. Talk about some diverse cravings.
In early September, Prinsloo confirmed that she was expecting a second child through an Instagram post. "Round 2..." Prinsloo captioned the photo of her in a bikini with a visible bump. Prinsloo and Levine are already parents to 1-year-old daughter Dusty Rose, who celebrated her first birthday a few weeks after finding out that she was going to be a big sister.
Because this is Prinsloo's second pregnancy in the past two years, she definitely knows a thing or two about all of the glorious symptoms of pregnancy. During an appearance on The Tonight Show during Prinsloo's first pregnancy in April 2016, according to Shape, Levine told host Jimmy Fallon that his wife was craving something a little healthier than expected — watermelon (and ice cream, too). "She's eating a lot of watermelon," Fallon said, according to Shape. "A LOT of watermelon. You get random cravings for stuff and it's like, SO much watermelon."
Levine also revealed in that same interview that he was experiencing second hand cravings from his wife's pregnancy — eating just as much stuff as his wife was. But it seems like this time around, Prinsloo's cravings are just a little different. Not that it's a bad thing. Every pregnancy is different, including those cravings.
Prinsloo's cravings are a far cry from her Victoria's Secret Angel diet. In 2015, Prinsloo told Elle that she loves to snack on different things throughout the day. "I have always eaten really healthy, but I'm not a diet freak," Prinsloo told the magazine. In 2014, Prinsloo shared her daily diet with People, which consisted of eating chicken breast and quinoa kale salad for lunch, and almonds and pumpkin seeds for a snack, among other things.
Prinsloo told Allure in 2015 that in order to prepare for the lingerie fashion show, however, she eats healthy by cutting out sugar and carbs and uses a trainer to get her in shape. Although she might not be following that strict of a diet and workout regimen this time around, it was confirmed in August that Prinsloo would be walking in the 2017 Victoria's Secret Fashion Show, airing this December, according to Us Weekly.
Who cares if she is taking a different approach to prepping for the runway this time? She is pregnant, after all, and those fries and milkshake looked delicious AF.
Watch Romper's new video series, Romper's Doula Diaries:
Check out the entire Romper's Doula Diaries series and other videos on Facebook and the Bustle app across Apple TV, Roku, and Amazon Fire TV.