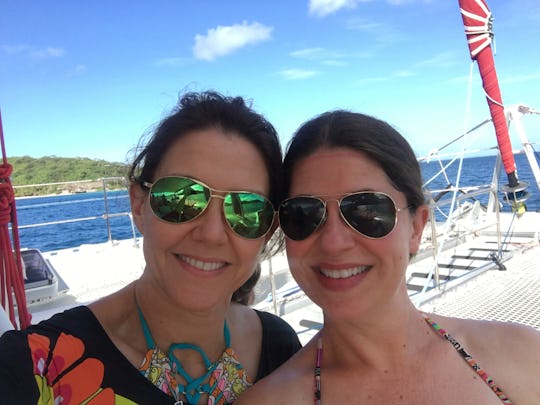 Photo courtesy of Blane Bachelor
People Judged Me For Taking A Holiday Away From My 15-Month-Old, But It Was So Important
The judgment started long before I left. When talking about my upcoming travel plans — a two-week work-slash-play trip to French Polynesia on a ritzy cruise ship — often the first thing I heard from fellow moms wasn't gushes of envy or congratulations (which I like to think is how I would have reacted), but a question: How could I be away from my 15-month-old son for that long?
One of the harshest moments happened about five days before I left, when I ran into an acquaintance with a son about the same age as mine. We hadn't seen each other in months, and I told her about my trip as we caught up.
"Oh, wow," she said, her eyes widening. "I don't—" She trailed off, gazing at her smiling toddler on her hip. I bristled as her unsaid words, I don't think I could do that, and I don't how any other mother could either, hung in the air. I mumbled something about being in a hurry and that we should get together when I got back, knowing I wouldn't go out of my way to make that happen.
Hard as it was, I tried to ignore reactions like hers as my departure date approached, focusing instead on my excitement — as well as the mom friends who offered encouragement instead of judgment. The trip was among the most luxurious I'd had the chance to take as a journalist who often writes about travel: 12 days of island hopping in French Polynesia on a cruise ship known for its culinary program. It would be my first overseas trip since becoming a mother, my first time to this part of the world, and a chance to bond with my cousin, Laurie, my guest, in a way that we never had before. In other words, I'd be breaking in my brand-new passport in a big way.
I snuggled my little guy often, inhaling his downy head as if I could store up his musky-vanilla scent for the next two weeks. But I wanted to make the actual goodbye as quick as possible.
I couldn't think of a better travel companion than my sassy Southern cousin. Not only are we more like sisters, able to be brutally honest with each other about everything from politics to annoyances like hogging the bathroom (side note: It's usually her doing the hogging), but she's an eager traveler and also a mom of a pre-teen daughter and 15-year-old son. We could commiserate on our inevitable maternal guilt while reveling in two weeks of freedom from the non-stop demands of parenting, drowning our sorrows and/or toasting our glee with bottomless daiquiris poolside.
My in-laws graciously offered to come help my husband with our son and flew in the same day I flew out. Amidst the last-minute scramble, I snuggled my little guy often, inhaling his downy head as if I could store up his musky-vanilla scent for the next two weeks. But I wanted to make the actual goodbye as quick as possible. I leaned in for one last hug at the door, but he turned away, nestling into his grandfather's arms. I tried to ignore the pang in my heart, telling myself that this was a good sign.
On the way to the airport, I blinked back tears as I sent a text to my brother, an Air Force pilot with three kids. More than once, he's had to deploy overseas for months at a time. I told him how agonizing it felt to leave my son for two measly weeks — I couldn't imagine how awful it would be leaving your kids for months on end. Not only that, I was heading to a tropical paradise, not a war zone.
Was he wondering where I was — and why I had left him?
But Tahiti didn't feel much like a paradise when we landed on a rainy Tuesday morning, exhausted from our redeye. We wouldn't be able to board the pearly white M/S Marina for several hours, so we trod around the port neighborhood, killing time at a café and souvenir shops. Once onboard, we ran around like the crazed cruise newbies we were, marveling over our new floating home with its elegant grand staircase, restaurants galore, and our surprisingly spacious veranda stateroom, complete with a bottle of bubbles (and, as we'd soon discover, a delightful, always-smiling concierge named Eddie).
Thrilled as we were, the first couple of days were a bit disorienting. First, there was the whole being-at-sea thing. I was used to constant motion — anyone with a toddler knows all about this — but the nonstop swaying of the ship took some getting used to. Our first two island stops, while beautiful, didn't seem as exotic as what I'd seen on social media — had I come all this way for an experience I could replicate in, say, the Caribbean? And I wasn't a fan of the cattle-call feel of some of the ship's restaurants or the tenders, the small boats that shuttle cruise passengers to and from ports of call.
Of course, I desperately missed my little stinker, too, especially when the novelty of #cruiselife had worn off a bit. In its place were the constant questions I posed to myself: What would he be doing right now? Would he be saying any new words? Was he wondering where I was — and why I had left him?
I was grateful for any chance we could connect on FaceTime — which my husband and in-laws were very good about — but it didn't happen every day. Sometimes, the ship's glacial internet was down. And scheduling was a constant issue, between our shore excursions, meals, and cooking classes, and my son's naptimes and bedtimes. The days I couldn't see him, I felt a bit off, as if I'd forgotten to brush my teeth or put on deodorant. I constantly looked at photos and videos, showing them to Laurie, who gushed appropriately in her Southern-accented signature phrase: "Blessssss it!"
About midway through the trip, I started seeing a family of three around the ship: a pregnant woman, her (presumed) husband, and their young son, whom they were almost always chasing. He was full of smiles and energy, like most toddlers, and I never witnessed any sort of meltdown, nary a tear, even during tender lines in the hot sun. His parents, however, looked catatonic. I gave them mad props for making the effort to get their little guy (and bambino on the way) traveling so young, but their hollow eyes and blank expressions hinted that maybe this wasn't the quiet relaxing getaway they'd imagined.
Once, on a tender ride back to the ship, I tried engaging the mom in conversation, commenting on how well-behaved her son was, and how much I missed mine back home. She barely responded, but hey, at least she wasn't judging me.
While seeing them made me miss my sidekick, it also offered a real-life reminder of why we were here: to take advantage of this rare, glorious break from the nonstop demands of parenting and, in particular, the grueling mental load most moms I know carry. Before long, I began noticing how rested I felt in the morning — thanks, in part, to a deliciously comfortable bed, but also because my brain didn't start the day spinning at 1,200 miles per hour wondering whose turn it was to get up with the little guy, whether my sitter would be on time, did our son's urgent care bill get paid, if my editor had read my story yet, was there enough milk in the fridge, which deadlines were the most pressing, did the laundry get put in the dryer, could I possibly squeeze in a run today, would that big check finally come in, OMG HOW IN THE BLOODY HELL DID MY FOREHEAD SPROUT FOUR MORE WRINKLES IN SIX HOURS OF SLEEP?!?
Instead, daily decisions revolved around what to eat and drink and whether we could get in a workout to counteract some of our culinary indulgences. Laurie and I soon became regulars at the breakfast buffet, cattle-call vibe be damned (two over-hard eggs and bacon for me, a pillow-sized omelette for her, and, always, fruit for us both). We tried to soak up as many sunsets as we could (champagne for me, a vodka cocktail for her).
Dinners — sometimes with a group, others just the two of us — were a treat. We'd get dressed up and snap photos of each other and whatever extraordinarily delicious food we were eating (a decadent lobster soufflé, sumptuous linguine carbonara). We sunk into some of our most fun, heartfelt conversations, gossiping about fellow passengers, reminiscing about shared childhood memories, and focusing on ourselves as women, not just moms. We'd eventually head back to our stateroom, crawling into beds that Eddie had perfectly made and browsing through the ship's daily newsletter to see what was on tap for tomorrow — none of which we had to plan.
I've always fancied myself as more of an adventure traveler, but it wasn't long before I began to grudgingly appreciate the structured regularity of cruising. As with most moms I know, the never-ending to-do lists don't disappear while traveling: They go with you, along with the house prep (unplug the coffee pot, leave on the kitchen lights, lock the back door, toss those leftovers before they grow into a science experiment) and packing, made even more hellish by the fact that you're packing for yourself and your offspring. This time, though, packing just one suitcase, for just me, even for two weeks, was way easier, not to mention unpacking only once and getting to see seven different islands. And the slow, sometimes nonexistent, internet, while frustrating, meant I had to just let go of work more than once and succumb to the relaxed pace of island time.
Another pleasant surprise: pre-planned shore excursions. There was something to be said for simply showing up at an appointed time, with every detail and extra taken care of, right down to the water bottles and snorkels. So what if the most exciting part of the day was watching a senior get stung by a jellyfish?
With all that freed-up mental bandwidth, I began to rediscover my passion for travel, a side of myself that, like the volcanoes on the islands we visited, had been lying mostly dormant since I became a mom a year and a half ago. I'm incredibly lucky to have a job that allows me to see the world (and a supportive spouse), but those epic international trips have been much less frequent since our son came along. It's a sacrifice I gladly made when my husband and were finally able, after three-plus years of trying, to have a baby. Still, that doesn't mean I don't feel twinges of FOMO when I see colleagues' Instagram feeds full of frothy pints in Dublin or wildlife watching in South Africa or helicopter rides around Mount Everest.
All of which made exploring these new-to-me islands — albeit via cruise ship — even sweeter. I'd rented a high-end camera and dusted off my long-neglected long lens, and I was delighted to find I still loved taking photos of people and street scenes as much as I always had. But instead of looking for something over-the-top exciting to photograph or write about, I savored simply strolling through the streets and chatting with locals.
In Raiatea, the morning after a horrific bout of seasickness, I canceled my culinary tour and walked through town, snapping shots of produce in the farmer's market and palm trees lining the sidewalks. On a spectacular beach in Bora Bora, where Laurie and I met up with our new ship besties for some sunset beers, I fired off hundreds of photos of local kids splashing along the shore.
"You look like a real pro with that thing," Laurie remarked in between sips of the local beer, Hinano. For the first time in a while, I felt like one, too.
Who's going to cut up my peppers when I go home?
"It's really going to suck having to make my own breakfast again," I complained as Laurie and I sat down on our second-last day. "I'm sure going to miss these bowls of cut fruit."
"I was just thinking the same thing!" she exclaimed. "I love how they cut these peppers up so tiny for my omelette. Who's going to cut up my peppers when I go home?"
Indeed, in just a couple of days, along with no perfectly cut peppers or fruit, there would be no beautifully made beds, no chocolate placed on the pillow or slippers on the floor, no Eddie around to magically tidy up, no jaw-dropping views from our veranda, no sunset cocktails, no decadent dinners cooked by someone else, no more back-to-back days deliciously free of planning and worrying and whining and requests and "what's for dinner" and dirty diapers and nonstop "Mama! Mama! Mama!" And, of course, we couldn't wait.
As we packed up our room and cracked the welcome bottle of champagne we never opened, I was counting the hours until I'd see my son and husband. Yet I couldn't stop thinking about a conversation we'd had at dinner several nights ago with our waiter, another lovely fellow also named Eddie, about his family. He had a little girl about the same age as my son, and his wife was pregnant with their next child. It had been seven months since he'd been home to the Philippines, he told us, and he had another six weeks to go. He wasn't sure how long he'd be able to stay home, depending on his next contract. He shrugged his shoulders, smiled, and continued bustling around his tables, unintentionally leaving us with a humbling chunk of perspective to chew on along with our apple tart.
He was standing in his crib, and I let him get a good look at me before I scooped him into my arms and showered him with kisses, telling him how much I'd missed him.
Approximately 30 hours after stepping off Marina, I stepped through my front door. My son was taking his afternoon nap, so I sat in the kitchen with my in-laws, who gave me the rundown about how things had gone (in a nutshell, very well). My father-in-law poured me a Diet Coke. I gave my mother-in-law the brightly colored pareo I'd bought her. I kept one eye on the monitor, willing my little guy to wake up from what seemed like a toddler world record for the longest nap.
Finally, he stirred, and I bolted into his room. He was standing in his crib, and I let him get a good look at me before I scooped him into my arms and showered him with kisses, telling him how much I'd missed him. He was still for a long time, almost sensing that I needed to hold him.
There would be more trips in my future — though not any for two weeks any time soon — more bittersweet goodbyes and oh-so-sweet reunions, and, of course, plenty more judgment about my parenting, whether my passport was involved or not. But in that moment, it was just the two of us, a mother and her son, in a long-awaited hug.
Check out Romper's new video series, Bearing The Motherload, where disagreeing parents from different sides of an issue sit down with a mediator and talk about how to support (and not judge) each other's parenting perspectives. New episodes air Mondays on Facebook.