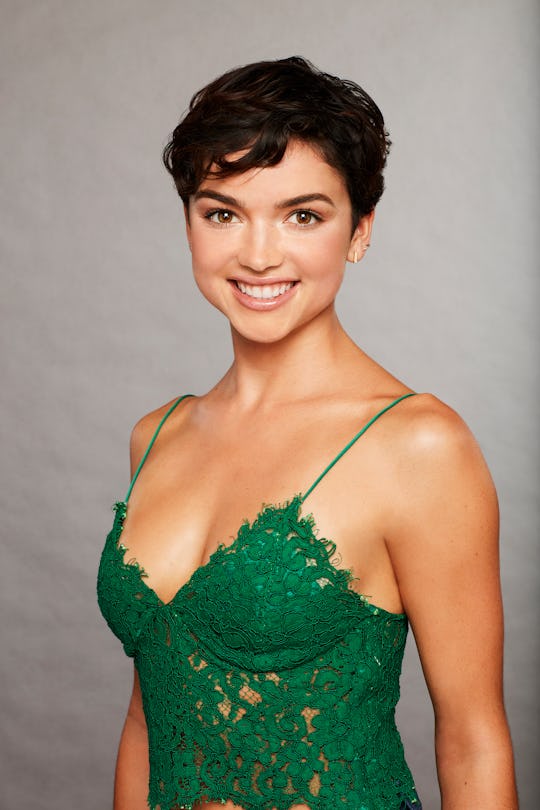 Craig Sjodin/ABC
Bekah From 'The Bachelor' Just Delivered The Perfect Clap Back About Her Age
It can't be easy being a contestant on The Bachelor, not least of all because people tend to form lots of opinions about you based on what they see on TV. This year, everyone seems to be obsessed with finding out how old Bekah is because her age is the only one not listed directly on the show. But Bekah's response about her age shows that this Bachelor contestant at least knows how to shut down all that chatter about her. The trick, apparently, is not to take it too seriously.
By now, we're all aware that Bekah is 22 years old, thanks to lots of committed internet sleuthing and the fact that she revealed the truth herself on the show. Cue the gasps once all the mathematicians in the audience figured out that this meant that there's a 14-year age difference between herself and Arie Luyendyk Jr., the 36-year-old lead of the show. Other people might be shocked and appalled that Arie is apparently pursuing a woman just barely above the legal drinking age, but Bekah herself appears to be totally unbothered. Just look at the tweet she sent out a few days before Monday's episode in which she finally reveals her age to Arie. Yes, girl.
In the tweet, Bekah jokes that she will be revealing the "significant age difference" between herself and Arie, but that it's not what we think. "My full name is actually Rebekah Cullen. My family would appreciate privacy during this time." She added to this a picture of the Cullen family from Twilight with her face photoshopped onto Ashley Greene's body. Clearly, Bekah is actually a vampire from the Twilight world of vampires and thus probably sparkles in the sunlight, is impossibly beautiful, and has some sort of weird psychic ability. Honestly, this would explain so much. Anyone else think that maybe Bekah is secretly 100 years old?
Well we're all going to find out on Monday night's episode of the show. Teasers for the fourth episode of the season hint that Arie is finally going to learn Bekah's deep dark secret. I don't think that he'll have a huge issue with it, but it does look like it's going to be a source of conflict for the other women in the house. Which is great, because who doesn't like to watch a group of grown women shaming one another because of their age? (I'm joking, of course.)
Previews for the fourth episode, including one titled "The Bekah-ning," show that Bekah's age is about to become a *thing* officially. Bekah asks, "Wait, do you know how old I am?" which means that she's about to tell Arie the truth. Meanwhile, the other women on the show are all talking about whether or not Bekah has told him the truth, and speculating that the longer she waits to tell him, the worse she's going to look. I'd like to take a moment to say God bless Becca K. in this instance, who only says mildly that her own parents have an 11-year age difference so she doesn't think it's that strange.
Other women, namely Krystal and Chelsea, however, are not quite so easy-going about it. "Arie's looking for a woman, not a girl," said Krystal, adding a slightly sinister sounding, "Good luck." Chelsea merely says, "Oh boy, that's a big age difference." I mean, this is undeniably true.
All that I know at this point is that I will be closely monitoring Bekah's Twitter feed during the next few episodes for more hilarious clap-backs to opinions about her age. She isn't afraid to let her thoughts be heard and I am here for it.
Check out Romper's new video series, Romper's Doula Diaries:
Watch full episodes of Romper's Doula Diaries on Facebook Watch.