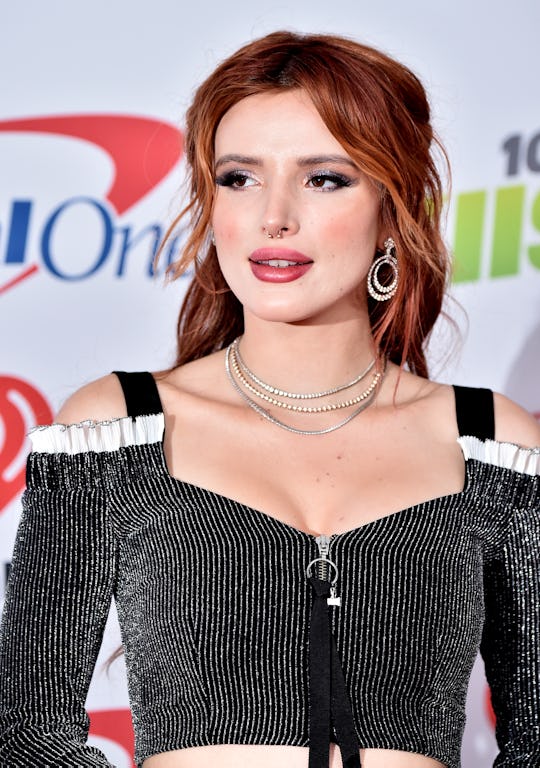 Frazer Harrison/Getty Images Entertainment/Getty Images
Bella Thorne Reveals She Was Sexually Assaulted As A Child In A Heartbreaking Post
Sexual assault allegations and harassment claims have flooded the media in recent months, with victims and advocates bravely calling for a change in the world. Now, actress Bella Thorne has revealed that she was sexually assaulted throughout her childhood in a heart-wrenching Instagram post, calling attention to the Time's Up movement that took center stage at the Golden Globes on Sunday night. A number of Hollywood bigwigs have been accused of sexual assault and misconduct in recent months, but this wave of revelations, like Thorne's, provides much-needed awareness right now. Because this stretches far beyond the Hollywood Hills.
With the #TimesUp initiative and use of the #MeToo hashtag, not only Hollywood A-listers are speaking out against sexual assault and harassment. Time's Up is a movement to fight sexual harassment in all workplaces across the nation and across all industries, and it was just recently founded in 2018. According to The New York Times, Time's Up was created by an estimated 300 actresses and females working in a variety of areas in the entertainment industry. Just yesterday, a number of Hollywood's elite and empowering female activists took over the red carpet at the Golden Globes, donning all black as a symbol of unity. Many also sported an enamel pin with the Time's Up logo.
Even hosts of the red carpet, like Carson Daly, Ryan Seacrest and Giuliana Rancic all wore black outfits to support the cause. In addition, celebrities who could not attend the awards show (Kristen Bell, Jennifer Lopez, and Mindy Kaling) all documented their support from afar by posting photos of themselves also wearing black on their social media accounts.
Ashley Judd, Gwyneth Paltrow, Rose McGowan, and many other prominent stars have spoken out about abuse they've endured. Now, Thorne has does the same in a truly heartbreaking post. Just yesterday, the Famous In Love actress, who has also starred on the Disney Channel series Shake It Up, bravely posted the following message on her Instagram account and used the Time's Up hashtag in conclusion, writing:
I was sexually abused and physically growing up from the day I can remember till I was 14..when I finally had the courage to lock my door at night and sit by it. All damn night. Waiting for someone to take advantage of my life again. Over and over I waited for it to stop and finally it did. But some of us aren't as lucky to get out alive. Please today stand up for every soul Mistreated. #timesup
Thorne also wrote a message on Twitter and said that she didn't realize as a child that what was happening was abuse. "I never knew what was right or wrong growing up ... I didn't know the person sneaking into my bed room at night was a bad person," she wrote.
Thorne's experience is sadly something many have endured. In fact, two out of three sexual abuse victims under the age of 18 are between the ages of 12 and 17, and 82 percent of them are female, according to the Rape Abuse & Incest National Network (RAINN). And there are many reasons why a victim of abuse hasn't shared their story, or has waited to do so until later in their lives, like Thorne. According to Psychology Today, many children keep quiet about their abuse out of family loyalty, while others are threatened or told that no one will believe them if they come forward.
In her life, Thorne has overcome a great deal of pain in addition to the alleged childhood abuse she endured. In 2007, her father, Delancey Reinaldo "Rey" Thorne, was killed in a tragic motorcycle accident, according to In Touch Weekly, and his unexpected death caused a fear of driving for Thorne. The actress once told Entertainment Tonight that she avoided getting her driver's license because of her dad's death. According to the Daily Mail, Thorne and her family had to live off food stamps as a result of her father's unexpected passing and she previously told Seventeen she felt the pressure of providing for her family as years went on and she went to work for Disney.
Fortunately, as Thorne's strength has shown, she's been able to overcome these hurdles, and her bravery to speak out now about the abuse she suffered as a child is inspiring and empowering.