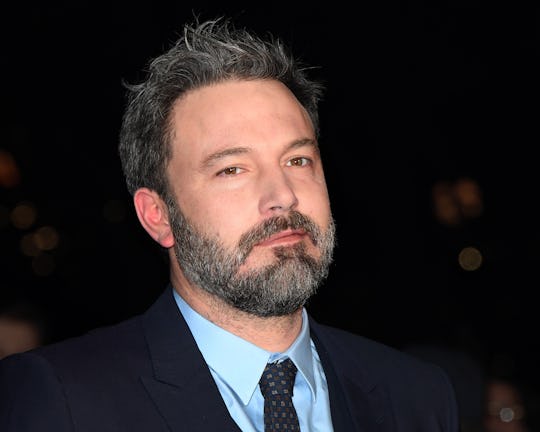 Stuart C. Wilson/Getty Images Entertainment/Getty Images
Ben Affleck Talks Alcohol Addiction & His Kids
While you may have heard that Ben Affleck and ex-wife Jennifer Garner are working hard to co-parent their children in the best way they can, Affleck released new information on Tuesday that will make you respect the father of three even more. Via a Facebook status update Tuesday afternoon, Affleck revealed he had recently sought alcohol addiction treatment, and his comments were largely focused on how talking about it was important for his children. Affleck noted that it was "something [he had] dealt with in the past and [would] continue to confront" going forward.
Back in 2015, Affleck and Garner announced their impending divorce, after a ten-year marriage. However, according to TIME, the couple are now "working on their marriage after going through a recent rough patch that nearly led to a permanent split." This news, coming just day before Affleck's Facebook post, points to a shared understanding between the pair that the safety, support, and love of their children was the most important thing to them both. And now, Affleck's revelation that he has undergone treatment for alcoholism reinforces the couple's stance of the importance of friendly co-parenting, and raising their children in a loving environment and structured home.
The rest of Affleck's statement echoes his love of his family, as well as a strong message of strength and encouragement for everyone out there who may be going through similar struggles.
I want to live life to the fullest and be the best father I can be. I want my kids to know there is no shame in getting help when you need it, and to be a source of strength for anyone out there who needs help but is afraid to take the first step. I'm lucky to have the love of my family and friends, including my co-parent, Jen, who has supported me and cared for our kids as I've done the work I set out to do. This was the first of many steps being taken towards a positive recovery.
The couple's three children, Violet, 11, Seraphina, eight, and Samuel, five, are obviously lucky to have such concerned and caring parents in Affleck and Gardner. Affleck's sentiment that he never wants his kids to be ashamed to ask for help is a crucial statement in today's society, when mental health is still sometimes not taken as seriously. Hopefully, Affleck is on the road to recovery, and with Gardner and their kids by his side, it's clear that the family has nowhere to go but up.