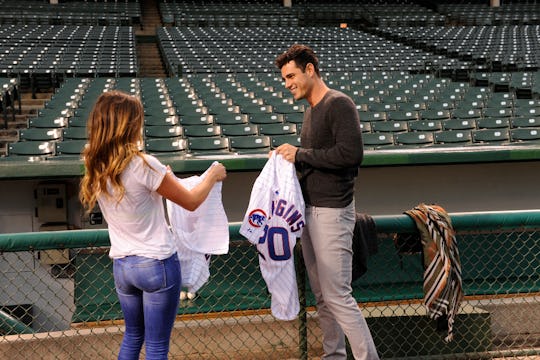 ABC/Jean Whiteside
Ben Assumes His Wife Will Take His Name, & That's Sort Of Presumptuous Of 'The Bachelor's Main Man
The Bachelor has had its share of interesting moments, but perhaps one of the most unintentionally awkward came in this week's episode. During Ben's one-on-one date with JoJo, the bachelor tried to show off his dating prowess by presenting the 24-year-old real estate developer with matching, personalized baseball jerseys — complete with his last name, Higgins, across the back. While it was undoubtedly meant to be a sweet gesture, the fact that Ben assumes his wife will automatically take his name is a little bit presumptuous.
I mean, sure — was it a sweeping gesture? Sure. Did Ben probably think JoJo would find it sweet in that vintage romance kind of way? Most likely. But that doesn't cancel out the fact that it was still a little bit sexist. "Mrs. Higgins???" Yahoo TV Editor in Chief, Kristen Baldwin tweeted angrily, after Ben presented JoJo with the jersey on Monday night. "How presumptuous! What about Mrs. Fletcher-Higgins? Or Mrs. Fliggins? OR HER OWN F***ING NAME?"
Whether or not you agree with Baldwin's sentiments, you can't deny she had a real point. The days of a woman automatically assuming her husband's last name upon marriage are over — and while we're at it, if Ben was looking to be cutesy, why didn't he just get a fun personalized jersey that said "JoJo" across the back instead?
Maybe it's just me being nitpicky, but the fact that a woman still, to this day, has to reinforce the fact that she's her own person and not someone's property is a little strange. If Ben really wanted to get JoJo a special gift like that, couldn't he have just given her the opportunity to pick out the personalized name herself?
No doubt, there are likely some traditionalists out there that found the move adorable. And hey, that's okay — you're allowed to find those sorts of things sweet if you want, but you should still have the choice to pick that sort of thing for yourself.
If nothing else, Ben buying JoJo that Mrs. Higgins jersey was sort of passive-aggressive in that "I'm ordering your meal for you, because I'm the man" sort of way. Maybe it's all just a result of his upbringing. Maybe his parents instilled in him that the only way to prove his masculinity was to take the reins for whatever girl he happened to be with. Either way, it didn't seem like there was any malice in the move or domineering intent. But see, that's sort of the problem.
JoJo, according to her own words in her ABC biography, is a capable career woman who loves pizza, reading news articles, and watching silly comedies. Not only that, she's a big advocate of social justice and stamping out racism against those of Middle Eastern descent ("My mom is Persian," she told ABC. "... I'm proud of my mother's background despite what social opinions are [and] it's important for me to stand up to people stereotyping Iranians."). To simply slap an applique on a jersey and label JoJo "Mrs. Higgins" is sort of dismissive of all those things.
Sorry Ben. Maybe next week your gifts will be a little bit more feminist-friendly.