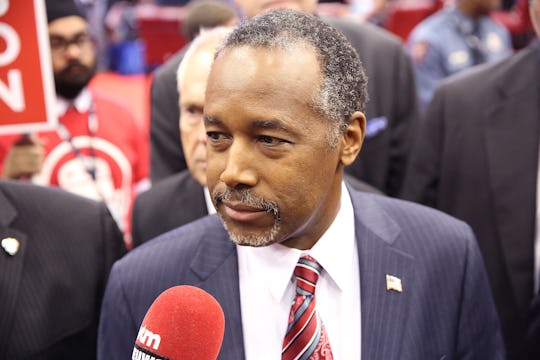 THOMAS B. SHEA/AFP/Getty Images
Ben Carson Asks For Female Reporter's Mic To Be Cut, & The Silencing Is Becoming A Trend
A former Republican presidential candidate shocked viewers of MSNBC's Morning Joe Friday with a disconcerting request. During an interview, Dr. Ben Carson asked for a reporter's mic to be cut when she questioned the Trump surrogate about assault allegations against Republican presidential nominee Donald Trump. The request to silence female journalist Katty Kay distressed the Morning Joe team and reinforced the Trump campaign's reputation for attempting to silence women that won't disparage his opponent, former Secretary of State Hillary Clinton.
Carson was asked to address recent allegations that Trump sexually assaulted women. Romper has reached out to the Trump campaign for further comment on the allegations, and is awaiting a response. At a campaign stop in West Palm Beach on Thursday, Trump denied all of the allegations. In a portion of the interview posted to Morning Joe's Twitter feed, Kay tells Carson that his words seem to imply that women who accused Trump of sexual assault are dishonest:
The real reason that women who have been sexually abused don't come forward to talk about their stories is precisely this: that all too often, they are accused of being liars. Are you saying that these women are lying?
Carson said, "That's your characterization, because you need to characterize it that way to try to make me the bad guy." Morning Joe host Joe Scarborough joined Kay in refuting that claim and asking for a straight answer to Kay's question; according to Jezebel, Carson repeatedly said "no" and "stop" before asking, "Hey, can you turn her microphone off please?" The stunning request was subsequently denied by Scarborough.
Carson did go on to offer an indirect answer to Kay's question about Trump's accusers, Time reported:
It doesn't matter whether they're lying or not. What matters is that the train is going off the cliff. We're taking our eye off of that and we're getting involved in other issues that should be taken care of later.
Later in the conversation, it was still unclear whether Carson believed Trump's recent accusers were lying, so Kay pushed for a straightforward answer again, according to USA Today. Carson said, "Listen, listen, would you listen for a moment? Do you guys have a plug please?" Though Kay wasn't the only journalist pushing for a succinct, direct response from Carson, it seemed that Carson specifically wanted Kay's sound to be cut. The repeated requests to silence Kay suggested a willingness to silence only the woman in the conversation. In a tweet following the interview, Kay suggested that Carson's call to cut her mic wouldn't earn strong support from women:
A number of viewers on Twitter agreed that the request was out of line:
In the last week, multiple women have accused Trump of sexual assault or sexual harassment. One woman, Jessica Leeds, alleged that Trump reached up her skirt and touched her breasts during a flight, The New York Times reported; another, former Bayrock Group receptionist Rachel Crooks, said Trump kissed her on the mouth when she met him in Trump Tower. After The New York Times reported their stories, Trump attempted to discredit both the outlet and the women on Twitter:
Former People writer Natasha Stoynoff wrote an article accusing Trump of sexually assaulting her when she went to Mar-a-Lago to interview him and wife Melania in 2005, according to People. Trump took to Twitter to challenge Stoynoff's account, too:
During the second presidential debate, Trump accused Bill Clinton of being "abusive to women," according to a transcript published by The New York Times. But even as Trump attempts to reignite condemnation of the former president, he is quick to try to shut down women who come forward with accusations about him. Based on Carson's interview on Morning Joe, it seems his surrogates may be following suit.
Denying accusations is perhaps to be expected, but Carson's request to turn off a female reporter's microphone is deeply concerning to many. Carson's attempt to shut down discussion of a distressing topic reflects the Trump campaign's troubling trend toward silencing those who challenge them.