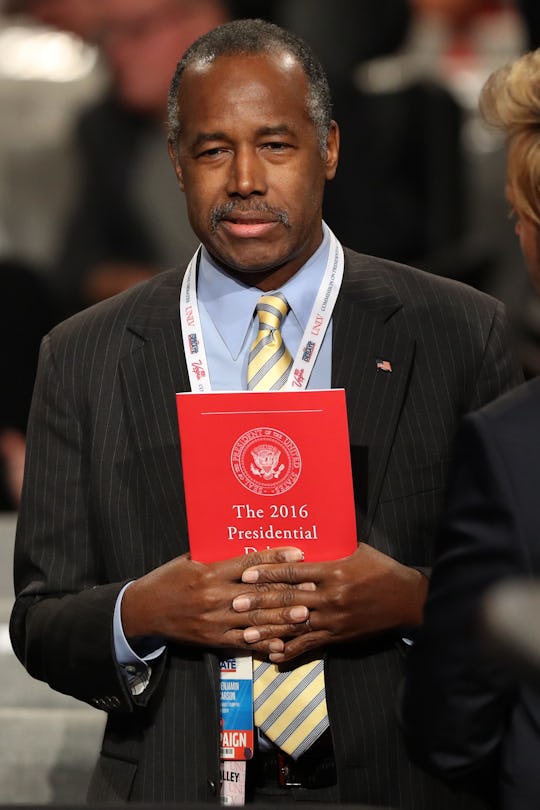 AFP/AFP/Getty Images
Ben Carson Doesn't Want A Job In Trump's White House Citing A Lack Of Preparation
Still planning on remaining close to the president-elect, Ben Carson has decided that he doesn't want to work in Donald Trump's Cabinet. "Dr. Carson doesn't feel like that's the best way for him to serve the president-elect," Carson's business manager Armstrong Williams articulated to Reuters this week. However, even though Ben Carson doesn't want a job in Trump's White House, he'll still remain involved in Trump's politics — though it's unclear exactly in what capacity.
"His life has not prepared him to be a Cabinet secretary," Williams explained — an odd defense of the retired neurosurgeon who once sought the GOP's nomination for president. "The last thing he would want to do was take a position that could cripple the presidency." Carson told The Washington Post: "I want to have the freedom to work on many issues and not be pigeonholed into one particular area." Admittedly, Carson would reconsider only "if it came to a point where [Trump] absolutely needs [Carson]." Speaking frankly, Carson stated:
My view is that if some people and the media are going to hate [Trump], then he's going to need allies on the outside to be there, to be there to move the country forward.
Trump has praised Carson in the past, calling him "brilliant physician" and hoping that he "[would] be very much involved with [his] administration." Carson was not offered any particular position by Trump, The Hill reports, though it was speculated that he'd be involved in initiatives to repeal Obamacare. Positions as secretary of education or secretary of health and human services were floated as potential options. Still, Carson rejected Trump's suggestions, saying: "Having me as a federal bureaucrat would be like a fish out of water, quite frankly."
Many are commenting on the irony of the situation. Whereas Carson felt qualified to run for Commander in Chief, actually working in the White House, "as a federal bureaucrat," feels against his nature:
On Carson's Facebook timeline, he addressed the decision in another statement, essentially echoing what newspapers have reported but refuting the idea that it has to do with "the complexity of the job":
My decision not to seek a cabinet position in the Trump administration has nothing to do with the complexity of the job as is being reported by some news outlets. I believe it is vitally important for the Trump administration to have many outspoken friends and advisers who are outside of the Washington bubble. It is vital to have independent voices of reason and reconciliation if our nation is to heal and regain its greatness. I will continue to work with the transition team and beyond as we build a dynamite executive branch of government.
It's unclear what Carson's vague, advisory role will do in the context of the Trump administration, but he plans on staying involved somehow. Though Trump once tweeted: ".@CarlyFiorina, Ben Carson said in his own book that he has a pathological temper & pathological disease. I didn't say it, he did. Apology?" it seems that Trump would now rather have Carson in his corner — or his Cabinet —than not.