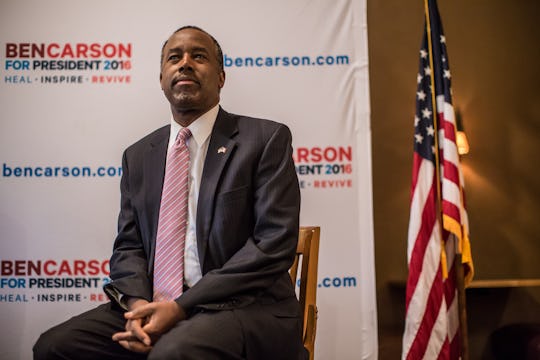 Brendan Hoffman/Getty Images News
Ben Carson Leaves Iowa For "Fresh Clothes" & Twitter's Reactions Are Hilarious
Retired neurosurgeon Ben Carson confused political pundits across the country on Monday night when he unexpectedly left Iowa just as the Iowa caucus was beginning. It was a strange move, since many of the candidates went to Iowa to speak directly to voters and woo some last-minute supporters. But, then, Carson Communications Director Jason Osborne tweeted that Carson left Iowa to get "fresh clothes," and the internet had a field day.
CNN's Jake Tapper tweeted Monday night that Carson was heading home to Iowa to rest and be with his family, and that he also wasn't going to go directly to New Hampshire or South Carolina. Osborne responded to Tapper's tweet on Twitter and said, "Dr. Carson has been on the road for 17 days needs fresh clothes. Back on the trail by Wednesday." Carson dropped from his second place lead behind Donald Trump to fourth place after a number of gaffes about national security and refugees, according to the Hill.
Politics reporters started laying down jokes about how "getting fresh clothes" was some kind of metaphor for dropping out of the presidential race. But as more sources, like the Hill, confirmed that Carson definitely wasn't dropping out, people realized that Carson really was just going to do some laundry, and their reactions were hilarious.
People just wouldn't let Carson live down the fact that he maybe wasn't the most efficient packer. Sure, he could've done laundry in his hotel, but everyone knows that nothing makes you feel more energized for the campaign season than doing your own laundry at home. Or, maybe political experts are right, and "get some fresh clothes" is some kind of coded metaphor for dropping out of the race. We'll just have to wait and see if Carson really comes back fresh and pressed-looking, or if he announces in the next few days that he's throwing in the towel (see what I did there!).