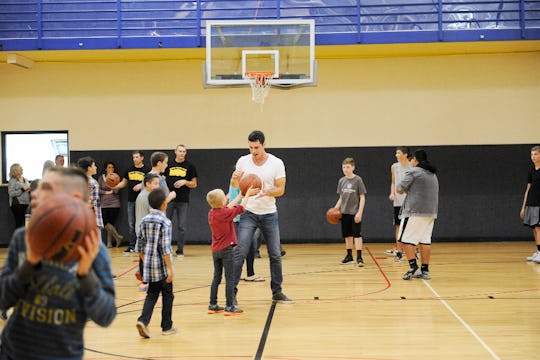 ABC/Jean Whiteside
Ben Comforted A Crying Kid On 'The Bachelor' & Proved He's Totally Dad Material
The six remaining Bachelor contestants made it to Ben Higgins' hometown of Warsaw, Indiana this week, and the very first one-on-one date recipient was none other than Lauren B. She got to go to Ben's former place of employment — the Baker Youth Basketball Club, where Ben used to coach — and play around with a gym-full of adorable, rambunctious kids. Of course, one of those kids wound up crying in the corner by himself, but Ben jumped in and comforted the kid with no trouble at all, cheering up the little boy like a pro. If his goal was showing Lauren B. what a capable co-parent he would make, then it's pretty safe to say that he knocked that one out of the park.
She caught the sweet moment out of the corner of her eye and offered up an "aww," but watching it up close was even more heartwarming.
Ben sat down next to the kid and learned that his name was Eric, before gently asking, "Eric, you look like a dude that needs to have a little fun today, right? Do you need to have fun today?"
The kid seemed reluctant, so Ben followed up, "Would you like to go over there and kinda hang out with Boomer and the Pacers with me? Would you be able to do that?"
Giving Eric the option of joining the group alongside him managed to motivate Eric enough to get on his feet and shoot some baskets. Ben's real shining moment was offering to stay with the little boy until he felt comfortable enough around the other kids (plus the two Indiana Pacers players and their mascot Ben brought along) to be on his own, instead of just pushing him to rejoin a group he obviously felt alienated from. Stellar dad moves.
"Those are some of my favorite moments at Bakers," Ben said in his cutaway interview, "When a kid needs help or needs support and you can just sit down and listen and support him and you see that smile come to his face."
Of course, the moment did seem just a little contrived for the cameras, which lit up the Twittersphere with conspiracy theories.
But also...it worked really effectively.
Even though she didn't get to lend Ben a hand, it was really clear that Lauren B was impressed with his childcare vibes. We can't wait to see him with Amanda's daughters next week!