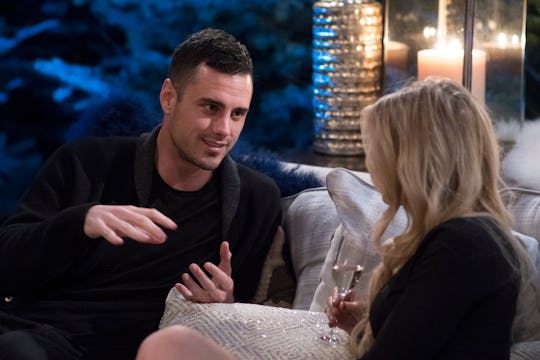 Lorenzo Bevilaqua/ABC
Ben Higgins Opened Up About Lauren B. On 'The Bachelor Winter Games' & It Will Break Your Heart
Make fun of The Bachelor Winter Games all you want, but the contestants are really pouring out their emotions at that Vermont resort. One in particular is former Bachelor Ben Higgins, who is still reeling from his previous (and very televised) engagement to Lauren Bushnell. And judging from Ben Higgins' comments about Lauren on The Bachelor Winter Games, he's not completely over her — or, at the very least, he's not ready to jump into a new relationship.
On Tuesday night's episode, he even took Chris Harrison aside to talk out whether he should stay on the show or not. It's clear that he wanted an opportunity to find love, but his feelings for Lauren may be preventing that.
I'll backtrack for those who aren't the most familiar with Ben's story. Ben first entered the Bachelor lexicon as a contestant on Kaitlyn Bristowe's season of The Bachelorette; he came in third, and then was the next season's Bachelor. Ben proposed to Lauren Bushell at the end of the season, and at first it seemed like they may be one of the few Bachelor couples who would actually survive in "the real world." The two even had a show on Freeform together — aptly called Ben and Lauren: Happily Ever After.
Well, "happily ever after" they were not because Ben and Lauren broke off their engagement last May. A source revealed to Life & Style at the time, "Ben and Lauren's relationship has been crumbling since before the holiday season, and now they have officially called it quits...It's only a matter of time before they announce it." The source claimed that the two couldn't agree on major life decisions, like where to live. As it turned out, too, Lauren didn't want to do the spinoff. In an interview she herself did with Life & Style she revealed, "I don't think it was the best idea...I just don't think I'm made for TV. It's hard to focus on a situation when there's a bunch of people around."
In the statement they released when they broke up, Ben and Lauren said, "It is with heavy hearts that we announce our decision to go our separate ways. We feel fortunate for the time we had together, and will remain friends with much love and respect for one another." It continued, "We wish nothing but the best for each other, and ask for your support and understanding at this time."
Since then, Lauren's appeared to have moved on. Lauren began dating Devin Antin, who is a Los Angeles-based real estate investor. On the Ben and Ashley I. Almost Famous Podcast, Ben addressed the fact that Lauren was dating someone else. He said she seemed happy for her... but it was hard for him to think about. I assume Ben went on The Bachelor Winter Games to try to move on himself, but it was clear after a few weeks that he couldn't ignore the pain he felt from their breakup.
"I'm still emotionally dealing with loss of that relationship," he told Harrison on Tuesday's episode. Courtney, who was talking to the others in the kitchen, seemed to pick up on that: he said Ben appeared to be "caught up and hurt, doesn't sound like a man who's ready to move on." Once Ben and Harrison had their heart-to-heart, he knew it was his time to go. "There are a lot of ghosts brought up here for me," Ben told the group in his announcement. "I'm sorry that I came here confused, and confused some of you." Aww! No one could hate on Ben, though — he's just trying to move on. He did say he was happy to have the experience, so hopefully he'll be ready to look for love again soon.
Check out Romper's new video series, Romper's Doula Diaries:
Watch full episodes of Romper's Doula Diaries on Facebook Watch.