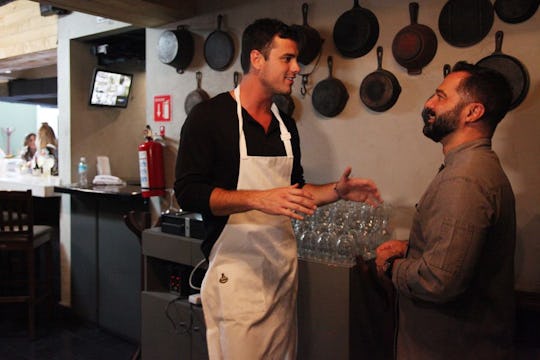 ABC
Ben Higgins' Spachelor Joke On 'The Bachelor' Was Inexplicably Adorable
Sometimes dropping a bit of cheesiness into a tense dating situation is just what the doctor ordered, because Ben Higgins' spachelor joke on The Bachelor was, surprisingly, not cringe-worthy, even though Higgins himself cringed after saying it. Higgins and the women were partaking in a cook-off in Mexico City, and everyone seemed super nervous that they would cook terrible food, thus making themselves seem less wife-worthy. Lots of pressure, lots of tension.
But then Higgins pulls through by lightening up the mood with the worst joke ever. "I'm no longer the spachelor, I'm the bachelor," he said. Yes, he actually said that. You know, in reference to a spatula. Somehow, the joke comes off as 100 percent sweet and 100 percent cute. We should expect nothing less from Ben Higgins, the cutie-pie who Tweets about his favorite charity, the Humanity and Hope United Foundation, loves cuddling with babies, enjoys fishing and hiking, and tears up when people tell him sad stories. The man is quaint, what can we say, and there's nothing more quaint than a well-timed spatula joke.
Twitter totally picked up on Higgins' joke, and it seems that Higgins won about one thousand hearts via spatula one-liner. This Tweeter seemed enthralled with Higgins' self-awareness:
While this Tweeter was so on board-with the joke that the use of many emoticons was on order:
Some even went as far as to create memes:
In case you need more proof that bad jokes are the fastest way to a woman's heart, there's this:
You keep doing you Ben. If it doesn't work out with these women, there's plenty of Tweeters who'd be happy to have you.