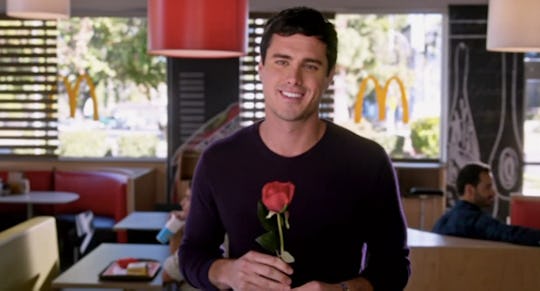 Ben Higgins Stars In McDonald's Ad With Other 'Bachelor' Stars, & You're Lovin' It
McDonalds fries are hard to resist. They're beautiful, addictive, and once you start, you can't stop. And you can say the same thing about The Bachelor. So it makes sense that there would be a Bachelor McDonald's ad to complement Ben Higgins' season premiere.
So what was the ad? It starred Higgins trying to choose between breakfast at lunch at McDonald's. Or, rather, stressing out over the choice between breakfast and lunch. (Honestly, trying to choose which form of fried food you like most is just as difficult as trying to choose which person you should marry. It's just that good sometimes.) But, in the end, thanks to McDonald's all-day breakfast menu, Higgins didn't have to choose in the end. If only he could choose his final two on The Bachelor. (Wait, is this a hint of a twist to come? Nah, wishful thinking.)
Higgins wasn't the only one shilling for McDonald's, however — Sean Lowe and Chris Soules, who both appeared on The Bachelor shortly thereafter, also attempted to aid Higgins with his "decision."
So does Higgins have more commercials in his future? Based on the reaction to his skills as an actor, he might want to stick to reality TV.
Watch the commercial on E! Online, and, in the meantime, try to choose between watching The Bachelor... and getting some of that all-day McDonald's breakfast.