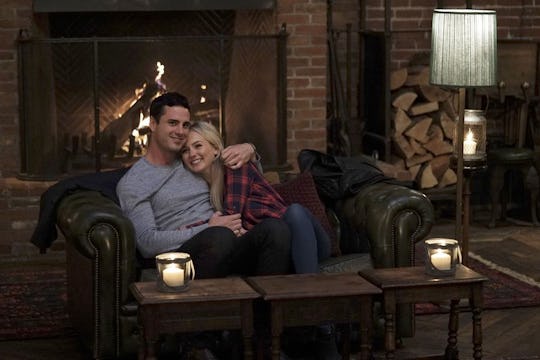 Levy Moroshan/ABC
Ben Higgins Wants To "Show Off" Lauren Bushnell After 'The Bachelor,' & Which Was Not Cool To Say
It's official. Season 20 of The Bachelor is over, and Ben Higgins has proposed to Lauren Bushnell. In a very dramatic finale episode, Ben broke the heart of JoJo Fletcher — don't worry, she's the new Bachelorette... she's fine — and stole the heart of Lauren for millions to see. It was all very romantic. The happy couple seemed to be on Cloud Nine with their proposal. And, despite mixed feelings regarding his choice, so was Bachelor Nation. That was until Ben said he wanted to "show off" Lauren B. now that The Bachelor is over. Can we all cue up a unanimous sigh on three?
During the couples first public appearance together, Chris Harrison asked Ben what he wanted to do now that the show was complete. His response was that he wanted to "show [Lauren] off." You know, because Lauren is his cool new iPad that he waited in line since 2 a.m.
Clearly, there's an issue with that statement. Lauren is a human, not a thing, and she doesn't need to be shown off like she is a shiny new toy. There's no reason to summarize her existence into an action that is popular in a first grade classroom.
In Ben's defense, I think he was very caught up in the moment and probably didn't mean to itemize Lauren. He's a genuine guy, who isn't very smooth when it comes to reality television (see: telling two women "I love you"), so I doubt he meant it in a way that was degrading towards his new fiancée. He's thrilled to spend time with Lauren in public, so the idea that the two get to be side-by-side is probably very exciting for him.
With that said, it is a lesson for the Bachelor to pick his words wisely. People are very keen on noting every word celebrities say, and now that he is in the spotlight, he's going to need to choose his words more carefully.