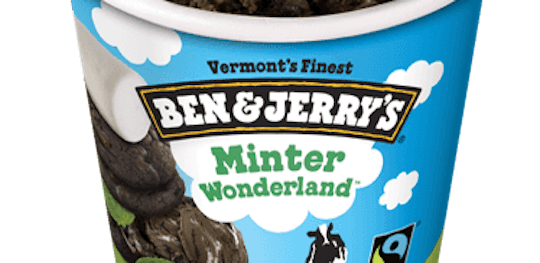 Ben & Jerry's
Ben & Jerry's New Flavor Is Only At 1 Store, & You Basically Live There Already
This time of year tends to be super stressful, with a couple of major holidays crammed into just a few weeks. I for one have no problem admitting that I'll be getting through it with a little holiday stress eating (along with many others I'm sure), and it looks like Ben & Jerry's is coming for the ride to support. The company is releasing a new flavor for the holidays, and it sounds absolutely amazing. If you're a chocolate fiend, you'll want to get your hands on some Ben & Jerry's Minter Wonderland flavor ASAP.
Ben & Jerry's is famous for it's amazing ice cream combinations, there's just no such thing as a "plain" flavor when it comes to the beloved ice cream brand. Minter Wonderland is no different, of course, and it lives up to its name. It has dark chocolate mint ice cream with both marshmallow and chocolate cookie swirls. Are you drooling yet?! I know I definitely am. In the company's own words, "Honestly, if this flavor was a toboggan, you'd already be on it." Who could resist that?
The new flavor is only available at one store, but luckily, you're probably already going to be spending a ton of time there over the next few weeks. Target's got the exclusive on Minter Wonderland, so you can snag some after you're done raiding the Dollar Spot for stocking stuffers and holiday decor. If you're heading there for some Black Friday shopping, just remember to add the ice cream to your cart last, or else it might melt before you finish making your way through the store to snag all the deals on your list.
A Ben & Jerry's spokesperson tells Romper the new flavor is a limited batch, and will be available until it runs out. The company regularly introduces new flavors, and not all of them stick around, and you can see a list of the ones that are no longer available on a section on their website called the Flavor Graveyard. Rest in peace, Brownie Batter, and you too, Coconut Almond Fudge Chip. We hardly knew ye, Oatmeal Cookie Chunk.
If you can't get enough of Minter Wonderland, you might want to stock your freezer for a while — at least enough to get you through the stress of the holidays. A pint costs about $4, and allegedly contains four servings — but serving sizes are mere suggestions when it comes to delicious holiday ice cream, in my opinion.
There may be some hope that Minter Wonderland will return next year, however. A flavor of the same name (though with a slightly different recipe) appears on Ben & Jerry's Ireland website, where it's being touted as "back by popular demand." If Minter Wonderland runs out before you can get your hands on some, there are plenty of other flavors that can satisfy your sweet tooth. Half Baked (chocolate and vanilla ice cream, chocolate chip cookie, and fudge brownies) has been Ben & Jerry's most popular flavor for five years running, according to a press release shared on Cision. Now that you have all the information you need, if you need me I'll be at Target.