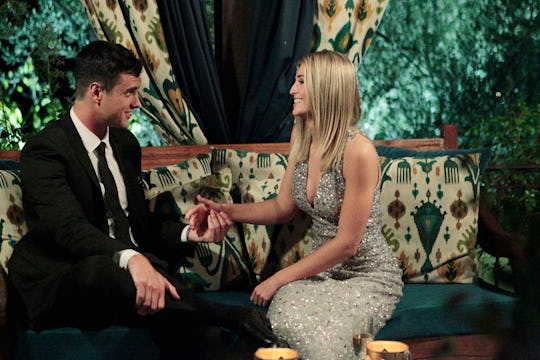 ABC/Rick Rowell
Ben Lets Olivia Stay On 'The Bachelor,' Even After The Other Women Report Her Bad Behavior
The drama is really heating up. On this week's episode of The Bachelor, Ben let Olivia stay on as a contestant, despite her behavior in previous episodes. It was with some pretty clear mixed emotions that Emily first told Ben last week how disrespectful she felt Olivia was being to her fellow contestants on The Bachelor during the rose ceremony.
"[Emily]'s not somebody to say something just to say it," Ben admitted in a cutaway interview. "I seem to know one Olivia, but the girls seem to know a different Olivia. I have to figure out what's going on ... [and] if someone's causing Emily pain, that's not the girl for me. I have to get to the bottom of this."
This came on the heels of Olivia making a "Teen Mom" joke at mom-of-two Amanda's expense in front of several women. Baffled, Amanda told Olivia that it wasn't a very nice thing to say. After that, Ben checked in with Amanda, who generously did not report the cruel Teen Mom comment back to him, but she did confess that she'd felt targeted by Olivia since the beginning of the competition.
Ben finally pulled Olivia aside, causing many to speculate whether he would "revoke" her early group date rose.
Launching into a long monologue defending her behavior, and not-so-subtly intellect-shaming the other women, Olivia defended her comments and her recent behavior, telling Ben,
"From the beginning, when I got the rose and then the second rose, immediately there was a target on my back. I felt like people hated me. They were finding me aggressive because I would grab you or I got roses. And then I try to pull back, and they's say, 'Well, why she isn't being social?' And I feel like I can't win. I feel like it's been hard for me to relate. Everybody here is like, really into painting their nails and doing each other's hair, and that's great, but like, I'm just different. Like, I like reading books in my room and like, thinking, and that's what I do. And I want to talk smart things."
When Ben asked if Olivia was surprised by what the other girls had to say about her, she replied, "No, it's not a shock to me. I come sometimes off as intimidating, and I smile and I try to be nice." And when Ben asked why the other women might find Olivia intimidating? "I'm just really confident," she demurred.
Olivia told Ben that she could handle having haters in the house, and that the reason she had told him that everything was fine with her was because she could handle the other women.
The explanation seemed to placate Ben, for now. He didn't take back Olivia's rose, and Jackie ultimately got sent home at the beginning of this week's episode. Will Olivia survive another week? Stay tuned to find out.