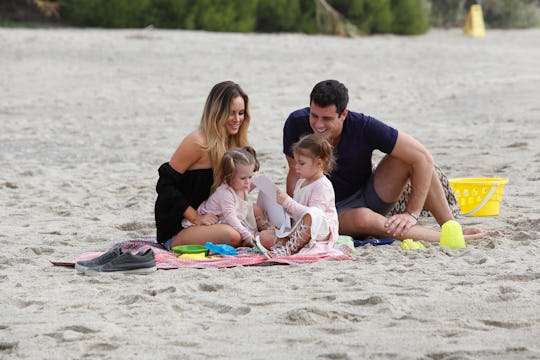 Greg Zabilski/Disney ABC Television Group/Getty Images
Ben Playing With Amanda's Kids On 'The Bachelor' Melted The Internet's Heart
The day we have all been waiting for has finally arrived, #BachelorNation! The highly anticipated hometown dates episode kicked off this week on The Bachelor, and it definitely started with a bang — or shall I say more like a tug at our emotional heartstrings. Starting things off in Orange County, California, the show opened with Ben playing with Amanda's two kids, and it literally melted the internet's heart — I can practically hear the harmonious awww from couch-ridden fans watching all across the nation.
Ben's visit to Amanda's hometown was specifically unique. Not only did we see him impress her parents, but we got a glimpse into the life of Ben as a dad, and let's just say he totally fits the part. Let's start with his reaction to witnessing Amanda greet her daughters. As he watched the mom of two dramatically run across the beach to hug her little girls, it was easy to tell he was getting choked up and struggling to hold back tears. Say it with me now, AWWW. If you haven't been in complete adoration of him now, this moment will surely do it.
As Ben tried to win over Amanda's adorable tots, it became clear that he is total dad material. Here is the tear-jerking photo evidence.
I can't handle the cuteness.
Cuteness. Overload.
Ben's lovable playtime with Amanda's kids had the twitterverse going bonkers with heart-wrenching reactions, and these tweets pretty much sum it all up.
Agreed, 100%. ‌
I am literally dying over here.
I can almost hear people shouting as they're tweeting from all the emotional overload.
Seriously my heart can't handle any more.
Yep, dead.
Hot dad alert.
SO. MANY. FEELS.
Whether or not Ben ends up choosing Amanda in the end is still up in the air — but for now, we at least know he'll make one totally cute papa.