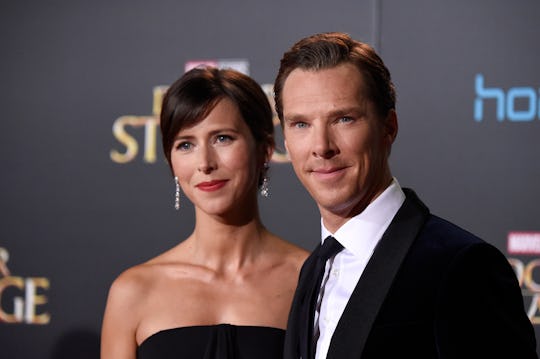 Frazer Harrison/Getty Images Entertainment/Getty Images
It's Another Boy For Benedict Cumberbatch & Sophie Hunter
The newborn parenting game is afoot, again: Sherlock Holmes actor Benedict Cumberbatch and wife Sophie Hunter welcomed their second child, a boy, on March 3, according to People magazine. Their first child, 20-month-old Christopher "Kit" Carlton, now has big brother duties to Hal Auden Cumberbatch. The couple confirmed that they were expecting baby number two back in October, at the Los Angeles premiere of Doctor Strange. More exciting news for the family: Sophie Hunter is now Sophie Cumberbatch, as the 39-year-old playwright and director confirmed to People that she had officially changed her name.
Despite only being married for just over two years — they celebrated their second wedding anniversary on Valentine's Day this year — Cumberbatch and his wife have known each other for almost half their lives, getting engaged in 2014 after a 17-year friendship, according to The Hollywood Reporter. Cumberbatch announced his engagement to Hunter in London newspaper The Times in November 2014, in a now-famous announcement composed of just a few simple lines under the "Forthcoming Marriages" section of the paper. Their first son Christopher was born just four months after the couple got married on the Isle of Wight in 2015.
Cumberbatch spoke to People in October after confirming that baby number two was on the way, saying he finds parenthood a "joyous thing." He added he is both lucky and happy to have both his wife and son in his life, with another child on the way at the time. He spoke highly of his parents, saying, "They are the first heroes I ever had in my life and I don't mean that in a sappy way, it's the truth." Cumberbatch is the son of British actors Timothy Carlton and Wanda Ventham. He continued:
I saw the loyalties they built up, I saw the families of people in crews that they worked with, I saw the friendships that lasted over years, what age brings in wisdom to a community that has every age group, every demographic and every color and creed working and involved in it and that was the complete world I wanted to be a part of. I thought this is really a wonderful combination of things to work with and work amongst so, they showed me all of that and I'm very grateful.
Cumberbatch sweetly added at the time that he hopes to be "half as good" as his own parents to his children. It's clear that Cumberbatch is enamored with parenthood, and couldn't be happier about his growing family. Congrats all around!