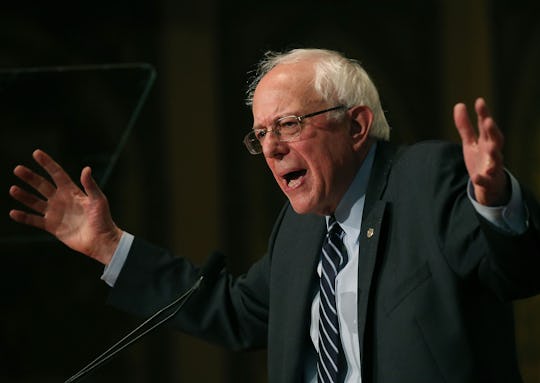 Bernie Sanders Addressed The Data Breach Scandal During The ABC Democratic Debate & He Apologized To Hillary Clinton
On Friday, the Democratic National Committee cut Bernie Sanders' access to all of its state voter database, which his campaign alleged jeapordized their ability to campaign successfully just before the ABC Democratic debate Saturday. During the debate, Sanders addressed the data breach scandal with the DNC, and he owned up to what his staff had done wrong. The issue was expected to come up, especially since previous debates saw the grilling of Former Secretary of State Hillary Clinton about the Benghazi hearings, which investigated Clinton's use of her personal email during her time as Secretary of State.
The DNC alleged that Sanders' aides had unauthorized access to Clinton's proprietary voter information during a software error with the voter file system. The DNC said it cut off Sanders' access to the voter files so that it could investigate what data had been taken and make sure Clinton's data was safe, but Sanders campaign manager Jeff Weaver alleged that the DNC was "actively trying to undermine" Sanders' campaign, according to CNN.
The issue came up during the Democratic debate, because, unlike Clinton, Sanders has yet to be involved in anything that could be called a scandal. Sanders addressed the data breach with complete honestly, saying "our staff did the wrong thing," according to a live stream of the event:
A few days a go, a similar incident happened because the DNC vendor screwed up. Information came to our campaign, in this case, our staff did the wrong thing.​ They looked at that information. As soon as we learned they looked at that information, we fired that person. We are now doing an independent internal investigation to see who else was involved.
Thirdly, what I have a real problem with, and as you mentioned, this is a problem, I recognize it is a problem. But what the DNC did — arbitrarily, without discussing it with us — is shut off our access to our own information, crippling our campaign. That is an egregious act. I'm glad late last night that was resolved.​
Fourthly, I look forward to working with Secretary Clinton for an investigation — an independent investigation — about all of the breaches that have occurred since day one of this campaign because I am not convinced that information from our campaign did not end up in her campaign. I don't know that, but we need an independent investigation, and I hope Secretary Clinton will agree with me for the need of that.​
Sanders then apologized directly to Clinton and apologized to his supporters. "This is not the kind of campaign we want to run," Sanders said, according to The Guardian. Clinton also responded to the Sanders' comment, saying she appreciated his apology:
Obviously we were distressed when we learned of it, because we've worked very hard … and so now that I think that we've resolved your data, agreed on an independent inquiry, we should move on. Because I don't think the American people care all that much.
Former Maryland Gov. Martin O'Malley also gave his two cents: He said the problem exemplifies data security problems in Washington, but he also added that Americans don't really care about the Sanders-Clinton data breach scandal, according to NBC News.
Image: Mark Wilson/Getty Images