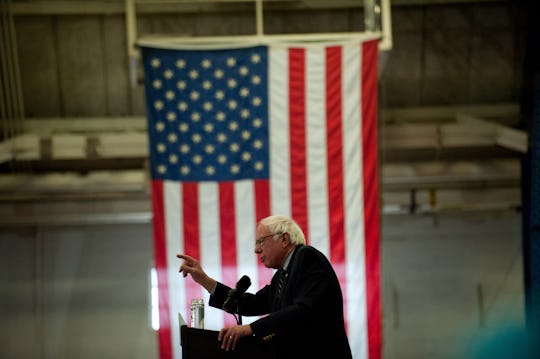 Jeff Swensen/Getty Images News/Getty Images
Bernie Sanders Endorses Hillary Clinton, Says She Would Make An "Outstanding President"
Vermont Sen. Bernie Sanders has finally taken the plunge — Sanders endorsed Hillary Clinton at a campaign stop he attended in New Hampshire alongside the Democratic frontrunner. "I have come here to make it as clear as possible as to why I am endorsing Hillary Clinton and why she must become our next president," he told crowds. "Hillary Clinton will make an outstanding president and I am proud to stand with her here today." Sanders' endorsement comes after a long primary campaign and mounting pressure from Democrats that he concede to Clinton.
Sanders and Clinton took the Portsmouth High School stage with Bruce Springsteen's "We Take Care of Our Own" playing in the background, according to The Guardian. Sanders began by thanking the 13 million people who voted for him, as well as his volunteers and small donors, before moving on to the matter at hand: conceding defeat to Clinton. Sanders explained that Clinton would be entering the Democratic convention with 389 more pledged delegates than he would, saying:
Secretary Clinton has won the Democratic nominating process and I congratulate her for that. She will be the Democratic nominee for president. And I intend to do everything I can to make certain she will be the next president of the United States.
According to a Pew Research Center survey, only 43 percent of Democrats are satisfied with their presidential choices for this election — but 85 percent of those who backed Sanders in the primaries plan to support Clinton in the general election. Sanders pushed the two candidates' similarities during his concession speech, focusing on the common goals he shared with Clinton: Clinton recently proposed free public college for families with incomes under $125,000, and she's advocated for single-payer health insurance for those over 55 and increased funding for community health centers. According to Bloomberg, Clinton's aides have also said the recently-finalized Democratic Party platform reflects certain taxation policies that Sanders fought for.
"We have produced by far the most progressive platform that this party has seen in multiple generations," Connecticut Gov. Dan Malloy, the co-chairman of the Democratic platform committee, told The Washington Post. Many of the platform changes came from Sanders' progressive campaign and unwillingness to concede without representation of his policies.
While many Democrats will likely welcome the party unity Sanders' concession represents, Republican frontrunner Donald Trump has already sought to use it against the Democratic party. "Bernie Sanders, who has lost most of his leverage, has totally sold out to Crooked Hillary Clinton," he wrote on Twitter Tuesday. "I am somewhat surprised that Bernie Sanders was not true to himself and his supporters."
With Clinton having won the necessary amount of delegates to become the Democratic nominee, however, Sanders' concession was only a matter of time. And with a finalized party platform that reflects both candidates' values, his long campaign wasn't in vain. "Our job now is to see that platform implemented by a democratically controlled Senate, a democratically controlled House, and a Hillary Clinton presidency," Sanders said Tuesday. "And I intend to be in every corner of this country to make certain that happens."
Sounds like we'll be seeing a second round of Sanders' campaigning now that he's joined Team Clinton — and both of them will be campaigning pretty hard against a possible Trump presidency.