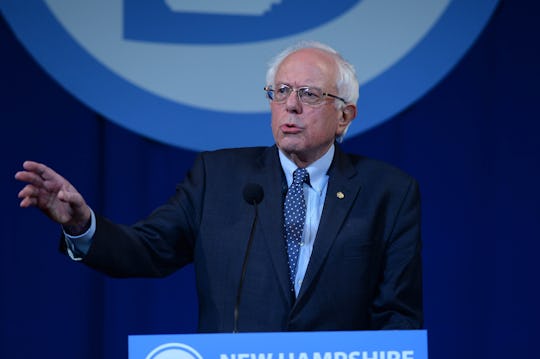 Bernie Sanders' Hernia Surgery Has Him Out Of Work And Off The Campaign Trail, But Not For Long
Democratic presidential nominee hopeful and Vermont Senator Bernie Sanders had hernia surgery on Monday, although it appears that the procedure isn't predicted to keep him away from work for very long at all. According to his Senate office, the 74-year-old had an "elective outpatient hernia repair procedure" and is expected to "resume his Senate duties" as early as Tuesday. His one day (one day! For surgery!) away from his responsibilities as senator means that Sanders will likely miss voting on Gayle Smith's nomination to lead the United States Agency for International Development (USAID), which is scheduled to take place on Monday evening. Sanders has missed 15 out of 300 Senate votes this year.
As far as Bernie's presidential campaign, well, it doesn't look like he's missing much: His Facebook page doesn't show any scheduled campaign events since his rally in Atlanta with Killer Mike on Nov. 22. On Monday, Sanders campaign spokesman Michael Briggs said the senator would "be back on the road later this week," and said he does not believe the hernia to have been caused by Sanders being on the campaign trail.
While Sanders' office confirmed that he was undergoing surgery, you wouldn't know it to look at his still-very-active Twitter account, which didn't make mention of anything indicative of health concerns. It did, however, address Bernie Sanders' ongoing support of Planned Parenthood. Sanders might be taking a brief pause to take care of his health, but he doesn't appear to be keen on calling unnecessary attention to it.
As of the time the story was published, Beyoncé had not yet commented on whether or not she approves of how Sanders is strong enough to bear surgery, and then get back to business.
Image: Darren McCollester/Getty Images