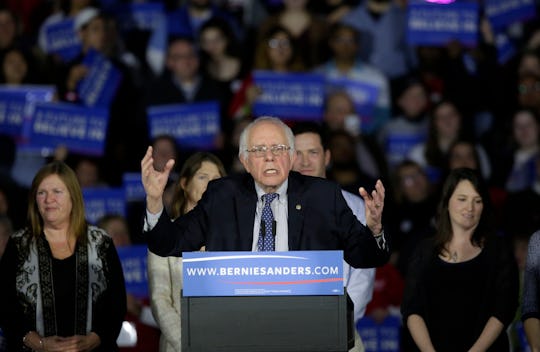 Joshua Lott/Getty Images News
Bernie Sanders' Iowa Caucus Success Even Surprised Bernie Sanders
The big story in the Iowa caucuses for Democrats on Monday was the surprising tie between former Secretary of State Hillary Clinton and Vermont Sen. Bernie Sanders. Sanders had leading against Clinton in the weeks leading to the first contest of the primary season, but many thought that Clinton would overtake him when it came time for supporters to actually voice their support. That's why, in his speech to supporters after the results showed a virtual tie, it seemed even Bernie Sanders was surprised at his Iowa success. Sanders' speech was gracious and triumphant, declaring the dead heat a huge success for the Sanders team and great news for the Sanders as he heads into the New Hampshire primaries next week.
Even with 99 percent of Iowa precincts accounted for, the race between the two Democratic candidates was simply too close to call. Speaking to CNN on Monday, Iowa party chairman Andy McGuire declared the race "the closest in Iowa Democratic caucus history." With only one precinct left to tally as of Tuesday morning, the margin between Clinton and Sanders was a razor-thin 0.02 percent: CNN reported that Clinton held 49.8 percent of supporters while Sanders claimed 49.6 percent. Former Maryland Gov. Martin O'Malley claimed a very distant third place with 0.6 percent of support from caucus goers when he decided to suspend his presidential campaign.
But the photo finish was still a huge win for the self-proclaimed "democratic socialist," as the Vermont senator was considered the underdog going into the Iowa caucuses by nearly everyone — himself included. Many political experts thought that, when it came down to it, those who were undecided might join Clinton. And, in those precincts where O'Malley was deemed unviable (and O'Malley's supporters would have to choose a second choice), people thought O'Malley's supporters might split evenly or slightly toward Clinton.
Before delving into his issue-themed messages to supporters, Sanders spent the first few moments of his Monday night speech enthusiastically describing exactly how improbable the night's victory was for his campaign. Here's part of what Sanders had to say in his remarks after the Iowa caucuses, according to Vox:
Nine months ago, we came to this beautiful state. We had no political organization; we had no money; no name recognition. And we were taking on the most powerful political organization in the United States of America. And tonight while the results are still not known, it looks like we are in a virtual tie. And while the results are still not complete, it looks like we'll have half of the Iowa delegates. I want to take this opportunity to congratulate Secretary Clinton, somebody -- yep -- and her organization for waging a very vigorous campaign.
[...] That is why what Iowa has begun tonight is a political revolution. A political revolution that says when millions of people come together, including those who've given up on the political process, they're so dismayed and so frustrated with what goes on in Washington, with young people who before had never been involved in the political process, when young people and working people and seniors begin to stand up and say loudly and clearly, enough is enough, that our government, the government of our great country belongs to all of us and not just a handful of billionaires, when that happens we will transform this country.
Of course, Iowa may not mean a thing when it comes to predicting the winners of the next Democratic primaries in New Hampshire and South Carolina. Or, the Iowa win could mean everything for Sanders. In a post analyzing early polling data for FiveThirtyEight.com, Nate Silver predicted the near toss-up in Iowa, but said that New Hampshire would be tougher to call. Silver said that Sanders could claim as many as 73 percent of New Hampshire voters, but if Clinton was awash in new endorsements and momentum heading out of Iowa, the pair could be headed for their second dead heat of the primary season.
Still, as Sanders pointed out in his speech, the two Democratic candidates will split the Iowa prize: each will get 22 of the 44 delegates at stake in the Iowa caucuses, according to the New York Times. That's bad news for the Clinton, who was long considered the party's only electable option in 2016. But it's great news for Sanders, who simply wasn't supposed to be doing this well.