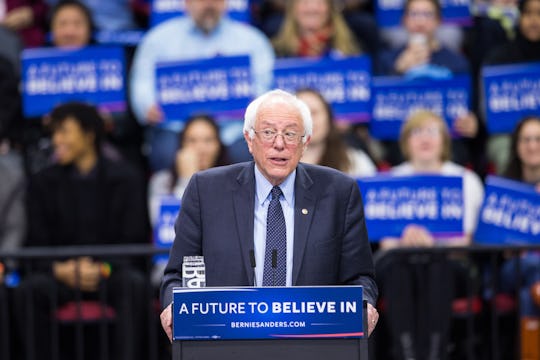 Brett Carlsen/Getty Images News/Getty Images
Bernie Sanders' New York Polls Aren't As Close To Hillary Clinton As People Might Think
Vermont Sen. Bernie Sanders is on a roll in the Democratic Primary race. He's recently racked up big ("yuge") wins in Wisconsin and Wyoming. But, any momentum Sanders has picked up from winning eight of the past nine contests might just be about to come to a screeching halt in the Big Apple. If Bernie Sanders New York polls are to be believed, he's facing a double-digit-point loss against former Secretary of State Hillary Clinton next Tuesday.
Despite wild enthusiasm for Sanders, who, with his Seinfeld-episode-come-to-life manner, is a perfect fit in New York, it doesn't look like he'll have the votes to beat Clinton in the state's primary race. According to a recent Fox News Poll, Clinton leads Sanders 53 to 37 percentage points.
There's no doubt that Sanders has a ton of enthusiasm on his side and continues to attract record crowds, but Clinton looks poised to turn out the crowd that matters most in this election: voters. According to the poll, Clinton beats Sanders across most demographics: women and non-whites most notably. Sanders only slightly bests Clinton among men 47 to 43, but he absolutely crushes the former First Lady among voters under 35 by 30 points, 63 to 33.
But Sanders and his supporters aren't even close to giving up the Empire State. Clinton might have already won three elections in New York: two in her races for the Senate and another in the 2008 Democratic primary against then-Senator Barack Obama, but Sanders has been closing the gap in New York. A February poll had Sanders losing to Clinton by 21 points, so the trends are moving in the right direction for Team Bernie.
The two Democratic candidates have been doing their best to prove their New York street cred. Clinton's ride on the subway last week and overall effort to prove she's a real New Yorker was hilariously parodied by Saturday Night Live over the weekend.
Now Sanders is headed to The Vatican to give a speech about "restoring social justice and environmental sustainability into the world economy," the Sanders campaign said in a statement announcing the candidate's visit to Rome just days before the New York primary. Although Sanders said he's "a big fan of the Pope," at least one papal official told the UK's Independent that this is simply an effort to "go after the Catholic vote."
It's clear both candidates are doing anything they can to wrap up the New York Democratic Primary race, which takes place Tuesday, April 19.